The rise and rise of Google's new CEO Sundar Pichai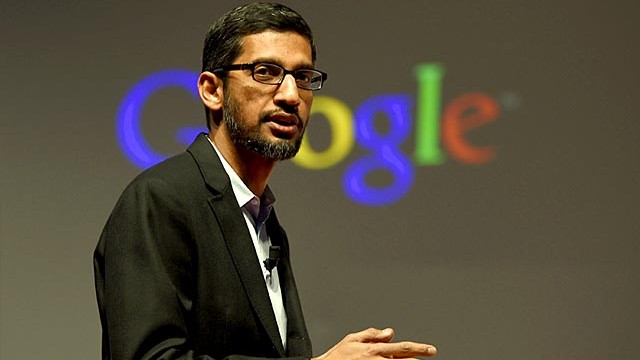 Many of the people who use Google's ubiquitous Chrome browser and Android mobile software may have never heard of Sundar Pichai, named the new CEO of the search giant.
He is a decidedly low-profile man with a reputation for simplicity and his ability to quietly navigate the workplace politics of his employer, Google, to make his team successful.
But even so, almost everything that Pichai has touched at Google has had a big impact on the lives of people around the world – the Chrome browser, desktop products such as the Google Toolbar, Desktop Search and Gadgets, and, of course, Android, which Pichai took over when Android co-founder and CEO Andy Rubin stepped down in 2013. Pichai, who was born and brought up in Chennai, graduated from IIT-Kharagpur, where he did a BE in metallurgical engineering. He went on to do a Masters from Stanford University and an MBA from the Wharton School of the University of Pennsylvania. At Wharton, Pichai was honoured as a Siebel Scholar and a Palmer Scholar.
Google wasn't Pichai's first job. He did brief stints at Applied Materials as an engineer and then at McKinsey & Company as a management consultant.
Pichai, 43, joined Google in 2004 as its vice president of product management and led the team working on the Chrome browser. Chrome wouldn't be released till four years later, but when it launched, it quickly eclipsed Firefox and Microsoft's Internet Explorer to become the world's most popular web browser, thanks to its speed and simplicity.
In October 2014, Pichai was named head of products at Google, a role that arguably made him one of the most important people in Silicon Valley. He became directly responsible for Google's core products – Google Search, Android, Chrome, infrastructure, commerce, apps, and Google Apps or its enterprise solutions.
Since then, he is seen as something of a right-hand man to Google co-founder Larry Page.
"The thing that attracted me to Google and to the internet in general is that it's a great equaliser," Pichai told The Verge in an interview in May. "I've always been struck by the fact that Google search worked the same as long as you had access to a computer with connectivity, (whether) you were a rural kid anywhere or a professor at Stanford or Harvard."
Page was effusive in his praise of Pichai in the blog post that announced the surprise corporate overhaul of Google and the elevation of the Chennai-born techie.
"A key part of this is Sundar Pichai. Sundar has been saying the things I would have said (and sometimes better!) for quite some time now, and I've been tremendously enjoying our work together…Sergey (Brin) and I have been super excited about his progress and dedication to the company. And it is clear to us and our board that it is time for Sundar to be CEO of Google," Page wrote."I feel very fortunate to have someone as talented as he is to run the slightly slimmed down Google and this frees up time for me to continue to scale our aspirations…and I know Sundar will always be focused on innovation – continuing to stretch boundaries."
Pichai is well-liked at Google and the broader technology industry. Technology news website Re/Code described his promotion to CEO as "a definitive case of nice guys finish first".
On Quora, former Google product manager Chris Beckman wrote of Pichai: "He recruited, mentored, and retained a great team. Sundar's team of product managers had a reputation as being among the best of the best, similar to the reputation of the software engineers within Search Quality."
Earlier this year, Pichai was approached by Twitter to potentially lead the product team at the social network, which he declined. When Microsoft CEO Steve Ballmer announced his resignation in August 2013, Pichai's name was mentioned as a potential front-runner for the position.
Don't miss the stories
followIndiaVision India News & Information
and let's be smart!