Badlapur review: Varun Dhawan wins everyone over in 2015's first great movie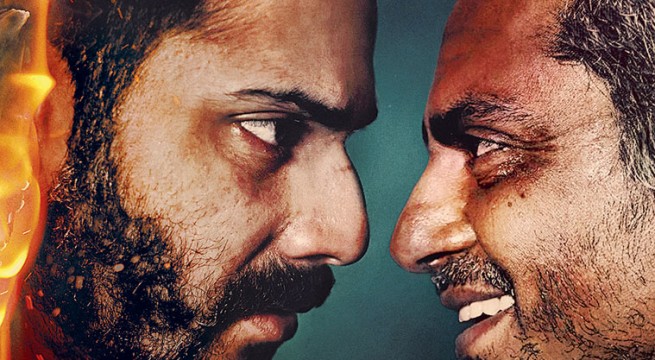 There were plenty of factors riding against Badlapur. Director Sriram Raghavan was coming from the failure of Agent Vinod. Varun Dhawan, the star of over-the-top romantic comedies, was headlining a dark thriller. Ek Villain, another film with a similar premise of vengeance, had been released last year, made money and gone. That budget was super tight and in Bollywood, only movies that cost a lot of money make a lot of money.
Much like the protagonist of this film, Badlapur renders a brutal wallop to everything going against it, and emerges as the first truly great movie of the year.
Dhawan stars as Raghu, a successful ad agency professional in Pune whose life descends into the pits when his wife (Yami Gautam) and child are killed during a car hijack. One of the culprits, Liak (Nawaz) is caught and put behind bars, but he refuses to divulge the identity of the other guy. Raghu cannot accept this – his mind fractures, and what follows is a crazy revenge trip that is set, aptly, in the town of Badlapur.Fortunately, we don't get a rehash of Ek Villain. What we do get is Raghavan's version of Ek Hasina Thi. It is surprising that unlike what the trailers suggested, Badlapur isn't a bloody, vengeful journey. It's a black comedy and character drama with a small dose of violence. The film zips by from one plot point to another, as we follow Raghu's weird path of salvation.
Raghavan extracts humour from apathy, like from Koko (Radhika Apte), a hapless wife willing to offer sex to a murderer without a moment's consideration. He also extracts humour from desperation, like Liak's bungled attempts at escape from prison. There's also a lovely dynamic between Liak and his mother (Pratima Kazmi) that ends in a subtly heartbreaking way. To have such a nuanced and offbeat film as a mainstream release is a nice change.
At most times, Badlapur feels like Raghavan set out to take badla and mess with the clichés of the formula and genre. Meandering romantic sub plots? To hell with that – Raghu just uses and throws. A thirst for revenge? Too easy, let's make the hero and the villain wait for 15 goddamn years until they actually do anything. No one even smokes in the film, yet there are persuasive mentions of ganja. The familiar element of a suitcase full of cash is present, and the plotline is quietly subverted by the end. What's more, there's shades of James Hadley Chase and Vijay Anand in the mix as well, complete with sex-based shock value.
What works best is that Badlapur is stripped down, crystalline filmmaking. Minus the unnecessary song with the end credits, there aren't any frills that pander to commercialization. While Johnny Gaddar had a dash of pulp in every frame, the shots here are simple and beautiful. Raghavan composes his scenes at the most basic level and lets the terrific acting and narrative do the heavy lifting.
Badlapur's visual resplendence is seen right from the opening scene: a long and meticulously composed, Haneke-style take where a woman simply crosses the road, while two shady folks in the frame do their own thing, until something horrible happens. It's the reason why the tagline of the posters reads "Don't miss the beginning".
This is also violence done right. Raghavan seems to know that if there's too much gratuitous brutality, the audience becomes numb to it and the scene that matters won't be effective. So the brutality arrives at a point when you least expect it, and whatever happens in that short burst will make the hair on your neck stand.
Raghavan managed to make even Neil Nitin Mukesh seem like a decent actor, and his knack for getting unheard of performances is on full display here. Varun looks like a beast, and his presence is felt. Much like Shahid Kapoor in Haider, his transformation is memorable for how messed up this character is. This is the film that is going to win everyone over and make him a household name. A bit more work on his delivery would have been perfect though.
Nawaz is once again effortlessly in top form as the sleazy, film-obsessed baddie, and his chemistry with Huma Qureshi remains intact. Kumud Mishra as a cop is fun, and really brings the house down in a shouty meltdown scene with Nawaz. Yami Gautam is fine, but she's played the same role previously in Action Jackson, so hopefully she won't be stereotyped as the murdered wife. The cherry on top are the wonderful cameos from Raghavan regulars Ashwini Kalsekar, Vinay Pathak, Zakir Hussain and Gopal Singh, the suitcase guy from Ek Hasina Thi.
The question of comparison to Ek Haseena Thi and Johnny Gaddaar is irrelevant. Badlapur is the kind of film we need more of, and also the kind of film that you need to see. It's in theaters now, so if you want to see a change in the quality of Bollywood products, buy a ticket or two.
Don't miss the stories
followIndiaVision India News & Information
and let's be smart!