'Bullett Raja' is my homage to cinema Of 1970s: Dhulia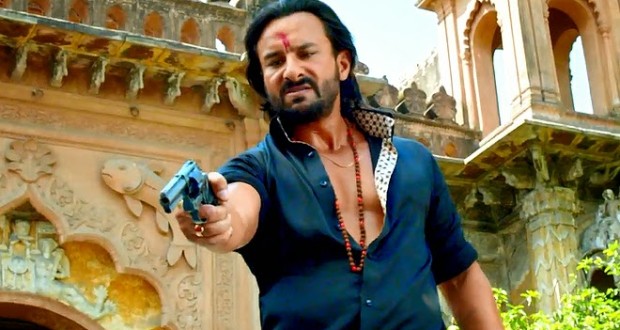 'Bullett Raja' is my homage to cinema Of 1970s: Dhulia
By Subhash K. Jha
Mumbai – "Bullett Raja" is a homage to the cinema of the 1970s, and the camaraderie between Saif Ali Khan and Jimmy Shergill is akin to that of the characters played by Ami! tabh Bachchan and Dharmendra in 1975 film "Sholay", says filmmaker Tigm! anshu Dhulia.
"Saif may look like he's shooting bullets fashionably and flamboyantly, but he is a fierce ideologue in 'Bullett Raja'. My film brings back the idealistic hero that Dharmendra and Amitabh Bachchan played in the 1970s," Dhulia said.
"Bullett Raja" may look like the recent action dramas set in north Indian towns, but the director begs to differ.
"The environment is organic to the plot. There is a lot of physical and emotional detailing in the direction. I don't like films about senseless violence. At the same time I enjoy films about full-on hero-giri, dosti (friendship), sacrifice… 'Bullett Raja' has all of that."
"My hero Saif and his friendship with Jimmy are inspired by Dharmendra and Amitabh Bachchan in 'Sholay'. I am very excited because I've never attempted this kind of cinema before," said Dhulia, a National Award-winning filmmaker.
Now into heavy post-production, "Bullett Raja" is premised on fictional mafia ! based in Uttar Pradesh. It is said to have a raw feel about it.
"My cinema always exists in a real space. In 'Bullett Raja', the fights may look designed in the 'Rowdy Rathore' space, but nothing in my film is unreal or outlandish," he said.
There are, however, a lot of filmy songs.
"I admit I've used a lot of singing and dancing in the narrative of the kind you haven't seen in any of films. But the songs don't just come on for no rhyme or reason."
"'Bullett Raja' is not just about having a good time. There are many issues that the film tackles – the exploitation of youth power for politics is a prevalent theme in my cinema. In 'Bullett Raja' too it is an important plot motivation," he said.
Don't miss the stories
followIndiaVision India News & Information
and let's be smart!