'Singh Saab The Great' – Sunny Deol back in form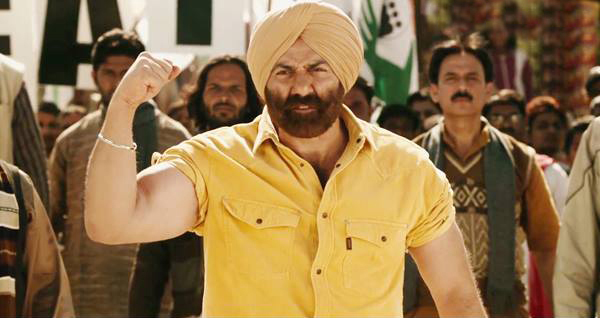 'Singh Saab The Great' - Sunny Deol back in form
By Subhash K. Jha
Film: "Singh Saab The Great"; Actors: Sunny Deol, Urvashi Rautela, Amrita Rao and Prakash Raj; Director: Anil Sharma; Rating: ***1/2
There is something to be said about that 'dhaai kilo ka haath' which Sunny Deol patented in well-made action films like "Ghatak", "Ghayal" and "Gadar – Ek Prem Katha". Lately, his career was eclipsed by wrong choices. Maybe, the 'haath' (hand) was not in the right place.
Back in form with a bang in "Singh Saab The Great", Sunny delivers a wallop. Looking every inch the Sardar in-charge, he furnishes the film with a flair that is quite engaging. No, he doesn't wrench off a hand-pump to thrash the goon. But yes, he does turn a static jeep from back to the front with his bare hands.
And guess what? He looks! every bit convincing doing the heroic hijinks in a country certainly n! ot meant for the weak and the infirm.
When we first meet Singh Saab (The Great) in this non-stop actioner, we are told by his on-screen aides that Singh has formed a political party called Aam People's Party. Now, if that reminds you of a certain Kejriwal's Aam Aadmi Party, then I am sure the resemblance is not coincidental.
God knows, we do need a change in governance and in the rampant corruption in the country. Anil Sharma's over-zealous though never-misplaced passion to put across Sunny in a messianic mould works to a large extent. The film is an old-fashioned, very simply written morality tale between an idealistic hero and a villain who rules a backwater town with an arrogant ruthlessness that romances decadence and debauchery.
What works well for the film are the powerfully executed confrontational sequences between Sunny and the arch-villain Prakash Raj. While Sunny shows exemplary control in the inherently melodramatic milieu, Prakash Raj trie! s a variation on his stereotypical villainy. He comes up with a character who's a Bihari goon who can at the drop of a hat, break into a song and dance while executing the sleaziest of deeds and dialogues.
God knows, we need a bit of humour in the decadence.
It's a murky world of compromised morals out there made bearable by larger-than-life heroes who know they are up against impossible odds, and yet find a kind of subverted comfort in making their unbelievable hero-giri credible by dint of their powerful screen images.
Sunny Deol has that kind of a presence. While romancing the mean, he is also capable of infusing moments of goofy tenderness in his scenes with his screen wife, played by a pretty and reasonably watchable debutante Urvashi Rautela. Their glaring age difference is also brought to chuckling notice by a script whose USP is its determination to not act over-clever while executing an old-fashioned revenge tale.
Amrita Rao struggles to! give substance to an under-written role of the narrator and journalist! who seems to have only one assignment, to trail Singh Saab (The Great) through his crusade against corruption. Clearly, she's ready to fall in love with the Missionary Man, if only the script would allow her.
You've seen the noble bureaucratic hero in different uniforms,take on the corrupt villain in numerous films. What works in "Singh Saab…" is the way the action scenes flow in motions of choreographed contemplation. Action directors Tinu Verma and Kanal Kannan lend a rigour to the narrative.
While the plot tends to sag under the weight of italicized cliches, the twists and turns are negotiated by the technicians with ample aplomb. The sound design is deliberately exaggerated and meant to manipulate moments of machismo. S. Gopinath's cinematography captures the feverish flourish of men on a rampage with gusto. The art director makes innovative use of rusty-brown colours that lend a bronzed hue to the brawn festival.
It would be the easiest thing in! the world to dismiss Sunny's pronounced heroism as archaic and 'loud'.But don't be hasty in your judgement.
Anil Sharma and Sunny Deol's combustive force earlier yielded the powerful "Gadar…". This time they aspire to the same level of dramatic velocity, and succeed to an extent.
There is a virility and fluency to the storytelling. "Singh Saab The Great" is a homage to the cinema of the 1980s when Sunny was the daredevil determined to bring on a social reform. Somewhere, that hero lost his way. It's good to have him back.
Don't miss the stories
followIndiaVision India News & Information
and let's be smart!