Diwali not so happy for heart, diabetic patients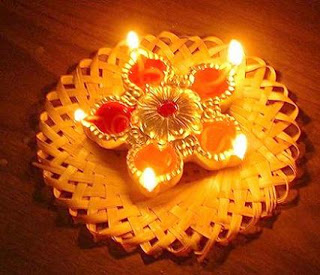 Diwali not so happy for heart, diabetic patients
New Delhi – Diwali, the festival of lights, is meant for feasting, bursting crackers and enjoying with the family, but doctors warn that patients suffering from lung and heart diseases, hypertension and diabetes need to exercise caution as their condition might worsen.
Highly saturated food like sweets consumed during this period can increase cardiac problems and aggravate health issues in people with hypertension and diabetes.
"Post-Diwali, heart patients and people suffering from hypertension, diabetes and breathing problems queue up in the hospitals as they do not abide by the precautions prescribed by doctors during such time." Purshotam Lal, chairman of Metro Hospitals and Heart Institute, told IANS.
Also, very importantly since the weather is also undergoing a change, people should be well clad and not get a cold. Last but not the least, binge eating, drinking and smoking should be avoided during festivities, he said.
"Since it is celebration time, people consume highly saturated food and sweets that affect those suffering from diabetes and high blood pressure and as it is winter time too they do not exercise which lands them at the doctor's doors. Those with heart and lung problem should say no to crackers," he said.
He said during Diwali, respiratory problems also see a rise due to increase in pollution due to crackers.
"The climate also changes during this time and patients of bronchial asthma are more prone to developing infections," he said.
Lal said to prevent respiratory problems, people, particularly those who are prone to bronchial asthma, should avoid being too close to burning fire crackers and avoid smoke.
According to Sandeep Sindhu, senior consultant, ENT at Indraprastha Apollo Hospitals: "The level of suspended particles in the air increases alarmingly during Diwali, causing breathing, eye, throat and nose problems. The pollution level shoots up due to lighting of crackers during the festival."
Those having hypersensitive airways need to be extra careful. People are advised to stay indoors to avoid inhaling smoke from outside. People suffering from asthma can increase medication and should immediately approach the doctor if the problem aggravates, he said.
Deepika Aggarwal, nutritionist, Indraprastha Apollo Hospitals, suggested festivities are best celebrated with dry fruits as compared to chips and sweets.
"Eating dry fruits is better as it satiates one for long hours in addition to consumption of less calories. People should avoid chips and sweets. Its better for not only those who have one or another lifestyle problems, but also for those who don't suffer from these problems," she added.
Don't miss the stories
followIndiaVision India News & Information
and let's be smart!