Learning to fight the world in Kargil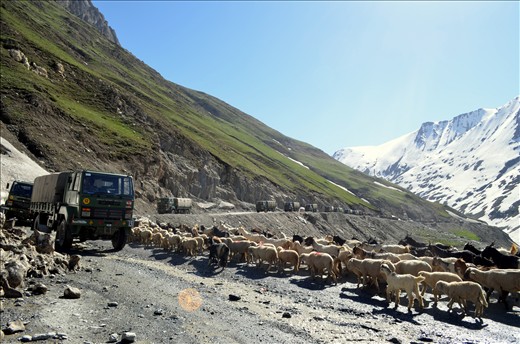 Learning to fight the world in Kargil
By Azra Khatoon
Kargil – Saida Banoo, a sixteen-year old Blue Belter, has been learning Taekwondo for the last five years. Nothing exceptional for a metropolitan reader but the context changes if Saida is a girl residing in Kargil, a region that remains cut-off from the world for six months,  a place where girls have remained confined to their homes for several decades and have now taken on the fight, against all the odds, to set a mark in education, employment and sports.
Empowering several girls like Saida is the Areezuna school of Taekwondo,  Kargil,  established by thirty-year old Mohammad Ali in 2009, the only school in this Himalayan hill  bound region that teaches young girls the art of Taekwondo and trains them to face the world with physical prowess.
Taekwondo – a form of martial arts originated in Korea, comprises measured movements of the feet and hands. Apart from several physical skills and techniques that foster bodily and mental well-being, this sport helps one become more exuberant and self-assured in life.
Ali, who had been an outstanding student of his master – Nisar Hussain Balkhani, represented Jammu and Kashmir at the National Levels and won several medals, including the Sher-e-Kashmir Sports Award. Transformed, he decided to help the shy souls around him emerge from their cocoons too.
His team, as inspired as him to make a visible change, started giving demonstration programs in schools on occasions like 15 August and on sports meets to encourage young people, specially girls and their parents.  All the hard work invested over time paid off: in the last three years, the team has grown from just thirty five to an impressive hundred and forty students. With over eighty percent of the team represented by women, Ali and his school have made remarkable progress.
"It was not difficult to convince parents to send their children to Taekwondo classes, especially girl children," says a satisfied Ali. He reiterates, "People have become more aware of the fact that not only boys but girls too have equal right to education and sports."
The proud mentor offers an organized environment with recurring exercises. Aligning the children according to their belts with Black Belters leading the rest, he creates a well-rounded fitness program that includes stretching, muscle tension exercises, flexibility and increasing the stamina through aerobic combat. After the regular work out session, the trainees, ranging from Class First students to girls pursuing graduation, are then exposed to kicking and self-defense techniques.
Ali, who runs the club single handedly, feels that there is a great career opportunity in this field. However, he grumbles over the fact that the Scholarship provided by the Sports Authority of India is at  a pause for reasons unknown to him.
Putting aside the grudges, he feels that if well trained and guided, one could reach the Olympics level. In order to touch his set goal to reach the Olympics, his rigorous routine cannot afford rest on Sundays too. Classes take place all week, two times a day with the same group. The morning shift begins at six and goes on till eight, and the evening slot commences from four- thirty to six- thirty.
Ali's students have played at National Level Tournaments in locations like Bhopal, Assam, Bengaluru, Gujarat, Haryana, Delhi and Jammu and have won all the three medals innumerable times.
Saida Banoo has won a gold medal in the Under-Seventeen Championship Girls, at the District Level Tournaments in the years 2010, 2011, 2012 and 2013 and again gold at the State Level in June 2013. "Taekwondo is my life. I have built confidence and faith in myself, that makes me feel empowered," shares Banoo, always alert to defend herself and display the nerves to react against the boys.
Reshma Batool, yet another twelve-year old young girl, has won a silver medal in the Under- Fourteen Junior Championship in 2012 at the State Level and a gold at the District Level in July 2013. This Yellow Belter feels that it is important to be physically fit through a sport. "Taekwondo for me is like a playful yet intense game that keeps me involved", states Reshma with a certain degree of contentment in her voice.
Several other shining stars, ShaziaBatool, Amreen Fatima, Asna Gul, Shehnaz Parveen and Chocho Sakeena, have won multiple medals and trophies in this field that offers physical and mental growth.
Talking to one of the parents it appeared that initially girls were bound not only to look after their younger siblings but also help their mothers in the mundane household chores at the expense of their studies. "Studies did matter to them but not as much as their families," states a parent.
Adding further, he states, "Not only was their psychological understanding discounted,  the  focus on their physical development was also put down." He now feels satisfied, stating with contentment, "I am happy to see such sports skills being imparted to girls too, because after all, a society becomes healthy when its girls are strong."
It is such a positive scenario today in Kargil that apart from exposing girls to education, equal emphasis is also given to them in the field of sports. Today every girl child in that community, who has been practicing this skillful art of Taekwondo or is involved in other physical activities, feels empowered, energized and confident. They have a come a long way already, with promises of a stronger future.
Don't miss the stories
followIndiaVision India News & Information
and let's be smart!