10 From One Family Are Killed in Sinai Blast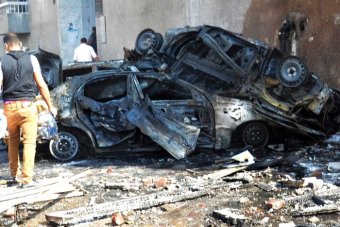 CAIRO — Ten members of one family, including children, were killed late Tuesday when munitions struck a home in the northern Sinai Peninsula, a region that has been the site of fierce battles between the Egyptian military and insurgent fighters, military officials and witnesses said Wednesday.
There were conflicting accounts about who was responsible for the deaths. Residents of the area and a neighbor of the family said the home had been hit by missiles, possibly fired by an Egyptian Army helicopter or drone. Egyptian security officials said the victims, all civilians, were killed by mortar rounds fired by militants during heavy clashes near the village, Nag Shabana.
Egypt's military spokesman did not respond to calls seeking comment.
The confusion was a measure of the increasingly opaque war in Sinai, asEgypt escalates its military operations there to fight an insurgency that has bedeviled the government for more than a year and left hundreds of soldiers and police officers dead.
Independent journalists are mostly barred from visiting the northern villages and towns that have borne the brunt of the latest fighting.
Cellphone communications and landlines are frequently cut off, further hampering reporting on militant attacks and military operations, especially from remote villages.
Even before the latest escalation, which started after militants killed 31 soldiers at a checkpoint last month, many residents described a security response that was overwhelming and frequently indiscriminate. Homes of militants would be destroyed, but so would those of their neighbors, and civilians were left to fear arbitrary arrest.
Over the last two weeks, the military has begun leveling large parts of Rafah, a Sinai town bordering the Gaza Strip.
Officials are trying to create a buffer zone that they say will deter the cross-border smuggling of weapons, a plan that requires destroying hundreds of houses and displacing thousands of people.
This week, the military said it was doubling the size of the security zone so it would extend more than half a mile from the border, essentially covering most of Rafah, residents said.
Saeed Attayak, whose family home in Nag Shabana is about 100 feet from the site of Wednesday's attack, said an Apache helicopter had fired two missiles at the house, which belongs to a local judge, Ahmed Nasser Abu Freih. Mr. Attayak, who spoke by telephone from Cairo, said his information was based on conversations with friends and family at home.
Medical workers told Reuters that at least of three of the victims were children.
"There were no clashes," Mr. Attayak said, adding that it was possible that the house had been struck because some in the family were "extremists."
Don't miss the stories
followIndiaVision India News & Information
and let's be smart!