6.0 quake rattles Bay Area, sending about 170 people to hospitals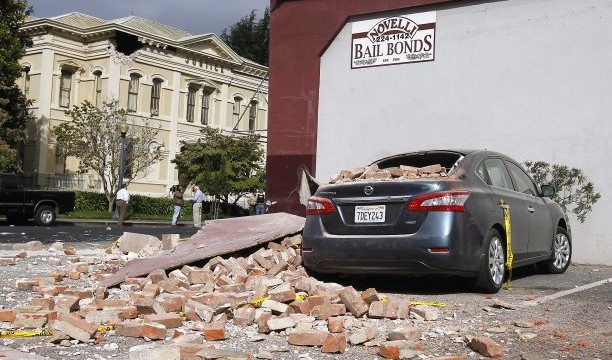 e little-known West Napa Fault shook for about 20 seconds early Sunday, enough to leave the San Francisco Bay Area with its biggest earthquake in 25 years — wrecking historic wine country buildings, buckling streets, emptying store shelves, rupturing gas and water lines, and sending about 170 people to the hospital.
The 6.0-magnitude earthquake, centered about six miles south of the city of Napa, was a reminder to Californians that it takes much less than the dreaded Big One to unleash substantial damage and fray a community's nerves.
If there was consolation in the small towns and bucolic countryside of Napa County, home to hundreds of wineries, it was that the quake struck at 3:20 a.m., when most people were home in the relative safety of their beds. No one died and only half a dozen suffered serious injuries, including a boy crushed by a falling fireplace.Gov. Jerry Brown declared a state of emergency for the area, where more than 30,000 residents from Napa, St. Helena, Santa Rosa, Sonoma and American Canyon were still without power by late afternoon. A series of minor aftershocks sustained an air of tension for residents and visitors, who were crowding the area during the peak tourist season of late summer.
The magnitude was less than the 6.9 of the 1989 Loma Prieta quake, which killed 63 and caused $6 billion in damage. But that was of no solace to those terrorized by Sunday's temblor, with shaking so violent residents described struggling to get out of bed.
"You anticipate the Big One all your life," said Kim Northrop, owner of a vintage shop in Napa that was damaged. "It's part of what you expect living in California. Just not on some Sunday in August."
The quake caused a series of secondary emergencies. Broken gas lines in the Napa Valley Mobile Home Park touched off a fire. With water lines in the neighborhood also broken, firefighters could not immediately douse the flames, and four mobile homes burned to their concrete foundations.
Many of the 60 water main breaks in Napa remained unrepaired Sunday evening, said Napa Public Works Director Jack LaRochelle, who predicted that it could take a week to get service completely restored.
Inspectors red-tagged at least 15 commercial buildings and 100 homes, the designation marking the structures as unsafe for entry, pending further review.
Some of Napa's landmark structures — including the Sam Kee Laundry, Goodman Library, the Napa County Courthouse and Vintner's Collective building — bore some of the worst damage. Napa City Councilman Alfredo Pedroza feared that the vintner's building and the library could be total losses.Although Napa took the brunt of the temblor, Vallejo — several miles south of the epicenter — sustained "quite a bit of damage," said Mark S. Ghilarducci, director of the Governor's Office of Emergency Services.
In downtown Vallejo, part of the outer wall of the First United Methodist Church, built in 1922, crashed to the sidewalk. Inside, the floor was littered with plaster and paint chips, and a stuffed toy had fallen from a shelf, but there was little other visible damage, said the Rev. Renee Rico. Inside, congregants were attending its Sunday service.
"I've had churches that had major fires," Rico said. "So this is nothing."
An early-warning system being tested at UC Berkeley signaled the quake about 10 seconds before the shaking, said Richard Allen, director of the university's Seismological Laboratory.
The quake could disrupt the region's signature industry. Wineries, shops and private cellars were littered with broken bottles and barrels of wine. The crisis came at a peak business period, with the Napa Valley teeming with wine-tasting excursions and wedding parties.
"Napa could not be any more full than it is right now," said Karen Lynch, owner of the Inn on Randolph, who took in guests from another bed and breakfast that suffered serious damage. "The harvest just started. We just hit our high season. There is not a room available anywhere."
Lynch felt fortunate that she had paid for a seismic retrofit on the inn three years ago, bolting the building to the foundation. The $115,000 job was "a bite" but the structure suffered only minor damage, she said, adding, "My husband looked to me this morning and said, 'Best decision we ever made.'"
Queen of the Valley Medical Center in Napa treated most of the injured. A dozen people were admitted, seven for broken bones and five for cardiac or respiratory distress. The first wave of patients consisted largely of those who had cut their feet on broken glass.
Don't miss the stories
followIndiaVision News & Information
and let's be smart!