Abu Sayyaf gunmen kill 19 Filipinos in road attack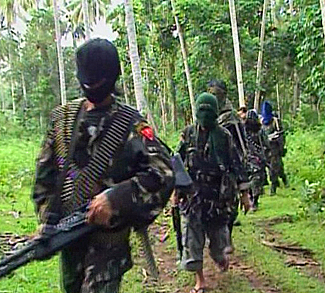 MANILA — Abu Sayyaf gunmen attacked Filipino civilians traveling to celebrate the end of Ramadan with their families on Monday, killing 19, including five children, in a brazen road attack that was the bloodiest in recent years by the violent militant group, police and military officials said.
Fourteen other civilians were wounded as the group traveled in two vans in a coastal village in Talipao town in predominantly Muslim Sulu province, where the militants have survived in jungle encampments despite years of U.S.-backed Philippine military offensives.
About 40 to 50 Abu Sayyaf militants armed with assault rifles opened fire on the vans, marine Brig. Gen. Martin Pinto and other military officials said. The motive was not immediately clear, but Pinto said some of the dead belonged to a civilian security force and were engaged in a clan feud with the Abu Sayyaf.
Violent clan wars, known as "rido," have complicated security worries in the country's south, which is already mired in decades-long Muslim rebellions.
Among those killed in the attack were at least four members of a Talipao civilian security force called Barangay Police Action Team that has been helping the military fight the jungle-based militants in recent months, Pinto said.
Armed forces spokesman Lt. Col. Ramon Zagala condemned "this heinous atrocity that victimized innocent civilians," adding the military "will continue its pursuit operations until those responsible are brought to justice."
"This attack cannot be justified by any ideology and shows the Abu Sayyaf's terroristic nature," Zagala said.
Five of the dead were aged 7 to 15, and four of the wounded are children, including a 3-year-old boy, a police report said. Possible family relationships among the travelers weren't immediately clear.
The Abu Sayyaf, which has about 300 armed fighters split into several factions, was organized in the early 1990s, but it has been crippled by government operations and endures largely due to huge ransoms from kidnappings. It now holds about 10 hostages, including two German tourists seized in April and two birdwatchers, one Dutch and the other Swiss, who were kidnapped two years ago.
The Abu Sayyaf is one of about four smaller Muslim insurgent groups outside of a peace deal signed by the Philippine government in March with the main rebel group, the 11,000-strong Moro Islamic Liberation Front that calls for the creation of a more powerful and potentially larger autonomous region for minority Muslims in the south of the largely Roman Catholic country.
Sulu, about 950 kilometers (590 miles) south of Manila, is one of the country's poorest provinces.
Read more: http://www.dailymail.co.uk/wires/ap/article-2708121/Abu-Sayyaf-gunmen-kill-19-Filipinos-road-attack.html#ixzz38ZnKCB8K
Follow us: @MailOnline on Twitter | DailyMail on Facebook
Don't miss the stories
followIndiaVision News & Information
and let's be smart!