World's high and mighty join Mandela memorial service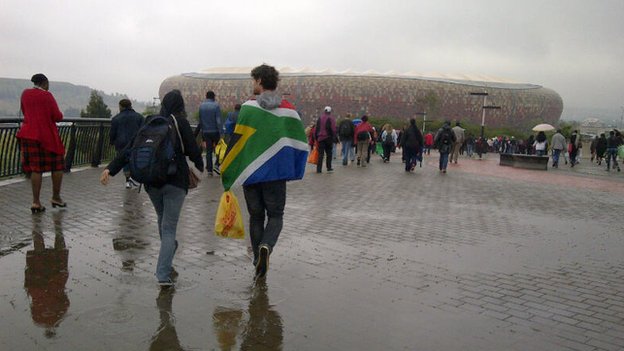 World's high and mighty join Mandela memorial service
Johannesburg – The memor! ial service to honour former South African president and anti-apartheid icon Nelson Mandela got under way Tuesday at the jampacked FNB Stadium at Soweto here.
The masses and dignitaries alike sang the country's National Anthem, signifying the official start of the programme, the official South African Government News Agency (SA News) reported.
Cyril Ramaphosa, co-programme director and Arican National Congress (ANC) deputy president, welcomed those in attendance, reminding them that even though Mandela's journey on earth has come to an end, "ours is just beginning".
The solemn event was marked by an inter-faith prayer service.
Earlier in the day, top world leaders walked into the FNB Stadium joining thousands of people to attend the memorial service of Mandela, recognised the world over as the anti-apartheid icon, who passed away Dec 5.
As leaders walked into the venue, they were welcomed with screams, whistles and chants from the thou! sands of people who thronged the stadium to remember South Africa's mos! t famous son.
The atmosphere in the stadium was electric and it was hard to see anyone who was sitting down or not singing.
Security is very tight around the venue and several streets around the stadium have been cordoned off.
Inside, bullet-proof screens have been erected around podiums where world leaders, including US President Barack Obama, are being seated.
The delegation from India, a country that was very close to Mandela, is being led by President Pranab Mukherjee and includes Congress president Sonia Gandhi.
On Monday, State Security Minister Siyabonga Cwele sounded confident that South Africa was ready to handle the task of managing an unprecedented logistical challenge of hosting 91 world leaders.
The South African government has advised world leaders to attend the memorial service of Mandela in Johannesburg Tuesday instead of his burial ceremony in Qunu in the Eastern Cape province Dec 15.
"This is (in) view o! f the logistical challenges of hosting large delegations of VVIPs and VIPs in a village such as Qunu," Xinhua quoted Collins Chabane, minister in the South African presidency, as saying.
According to SA News, the gathering of world leaders for the memorial service has reportedly surpassed that for the 2005 funeral of Pope John Paul II, which was attended by 70 heads of state and 14 regional leaders.
Among the high-profile guests attending Mandela's memorial service are heads of state and government and 10 former heads of state, the government confirmed Monday.
This is perhaps an indication of the incredible influence and respect Mandela commanded from all corners of the world.
World leaders remember Mandela's first appearance at the UN headquarters in New York, 23 years ago which many had said represented a beacon of hope for the oppressed.
"He was probably the greatest human being to ever live. We had them all, Diana (Princess of Wale! s) and Mother Teresa, but Mandela is in a league of his own," SA News q! uoted visiting French journalist Antonio Batho as saying.
The memorial service programme will feature a series of tributes by some of the anti-apartheid icon's family and leaders, among them his comrade and fellow prisoner on Robben Island Andrew Mlangeni, and UN Secretary General Ban Ki-moon.
Obama is also scheduled to speak.
Besides Sonia Gandhi, chairperson of the country's ruling United Progressive Alliance (UPA) alliance, the Indian delegation includes Leader of Opposition Sushma Swaraj, union Commerce and Industry Minister Anand Sharma, and members of parliament (MPs) Sitaram Yechury of the Communist Party of India-Marxist (CPI-M) and Satish Chandra Mishra of the Bahujan Samaj Party (BSP).
Don't miss the stories
followIndiaVision India News & Information
and let's be smart!