After Strike on Family, Fate of Hamas Commander Is Unknown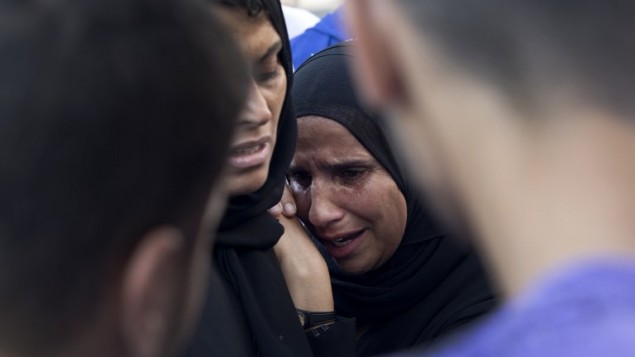 JERUSALEM — The fate of Muhammad Deif, the commander in chief of Hamas's military wing, remained a mystery on Wednesday, like much of his life spent in the shadows.
The Israeli warplanes that dropped at least five bombs on a house in the Sheikh Radwan neighborhood of Gaza City late Tuesday were seeking Mr. Deif, in at least the fifth Israeli attempt to assassinate him.
Eight years ago, as Mr. Deif met with other top Hamas military officials on the ground floor of a three-story house in Sheikh Radwan, the Israeli Air Force struck at 3 a.m. Nine members of a family on the upper floors of the house were killed, but Mr. Deif and his comrades escaped.
The latest bombing struck closer: One of Mr. Deif's wives, Widad, 28, and their infant son, Ali, were killed along with fellow residents Wafaa al-Dalo, 48, and her two sons, Ahmed 18, and Mustafa 14, according to the Gaza Health Ministry and neighbors. The house was reduced to rubble.
It was not clear whether Mr. Deif had been in the house at the time, and neither Hamas nor Israel provided evidence of his survival or demise. "It was like an earthquake," said a neighbor, Abu Fayez al-Shorafa, describing the powerful impact of the attack. "Everybody went out to check what happened."
After nearly three decades of living underground and two decades as No. 1 on Israel's most-wanted list, and having survived severe wounds from two of the previous assassination attempts, Mr. Deif, now approaching 50, has become a symbol of Hamas's staying power.
On Wednesday, a day after the latest short-term cease-fire between Israel and Palestinian militants in the Gaza Strip collapsed, along with the talks in Cairo for a more lasting truce, more than 140 rockets were fired into Israel, which carried out at least 70 airstrikes against launch sites, weapons stores and other targets, according to the military. At least 19 Palestinians were killed.
Even after a month of fierce fighting, which led to the deaths of nearly 2,000 residents of Gaza, and 64 soldiers and three civilians on the Israeli side, Hamas appeared unbowed.
As the architect who built Hamas's military wing, the Qassam Brigades, into a formidable fighting force equipped with rockets, tunnels and frogmen primed for deadly attacks, Mr. Deif is lionized by many Palestinians as a model of prowess and dedication in the battle against Israel. "He is a pillar and the symbol of the military and jihadi work, and he is among the decision makers," said Fawzi Barhoum, a Hamas official in Gaza. Without specifying whether Mr. Deif was alive or dead, Mr. Barhoum said Mr. Deif, his wife and son "are part of the body that has the resistance as its soul."
Prime Minister Benjamin Netanyahu of Israel refused to respond specifically to questions about Mr. Deif at a news conference in Tel Aviv on Wednesday. Mr. Netanyahu said only: "The heads of terror organizations and their commanders are a legitimate and top priority target. Nobody is immune."
Ronen Bergman, an Israeli journalist specializing in security affairs who is researching a book on Israel's intelligence and counterterrorism efforts, said: "Deif is the only prime military figure in Hamas to have survived so long. The fact that he was able to escape multiple assassination attempts and recover from severe injuries has built him the image and prestige of a bulletproof legend."
Continue reading the main story
Whether Mr. Deif was eliminated or not, the targeting of one of his family shelters is likely to roil the Hamas leadership and raise internal fears of a security leak.
Don't miss the stories
followIndiaVision News & Information
and let's be smart!