22 killed in Iraq attacks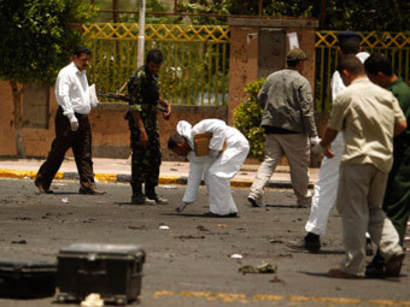 22 killed in Iraq attacks
Baghdad – At least 22 people were killed and 58 others wounded Wednesday in separate bomb attacks in Iraq, including bombings that targeted Shia pilgrims in the east of the country, police said.
In one attack, 10 people were killed and 12 others wounded when a suicide bomber blew up his explosives-laden truck at a police checkpoint at the entrance of the town of al-Alam, just east of Salahudin's provincial capital city of Tirkit, some 170 km north o! f the Iraq's capital Baghdad, a provincial police source told Xinhua.
Two policemen were among those killed and three other officers were among those wounded in the blast, the source said.
Salahudin province is a Sunni-dominated province. Its capital Tikrit is the hometown of former president Saddam Hussein.
In Iraq's eastern province of Diyala, at least eight people were killed and 30 others wounded when three roadside bombs exploded in a coordinated manner near a procession of Shia pilgrims marking the Ashura ritual in the northern part of the provincial capital city of Baquba, some 65 km northeast of Baghdad, a provincial police source told Xinhua.
The pilgrims were performing the 10-day Ashura ritual, which commemorates the death of Imam Hussein, who was killed and buried in Karbala in 680 AD.
Many of the pilgrims planned to travel to the holy Shia city of Karbala, some 110 km south of Baghdad, ahead of Ashura's culmination Thursday, t! he source said.
In northern Iraq, a soldier was killed and four ! others wounded in a roadside bomb explosion near their patrol in the town of Riyadh near the city of Kirkuk, about 250 km north of Baghdad, a local police source said.
Elsewhere, unidentified gunmen planted a bomb at the house of a policeman and blew it up early in the morning in the centre of Garma town, just east of the city of Fallujah, some 50 km west of Baghdad, a local police source told Xinhua.
Minutes later, another bomb detonated as people examined the site of the first blast, killing two civilians and wounding seven others, the source said, adding that the policeman himself escaped the attack uninjured because he was not present during the blasts.
Meanwhile, gunmen planted bombs in three more houses belonging to policemen in Garma and blew up three of them causing severe damages to the houses but there were no human casualties.
The police managed to defuse another bomb in a fourth house, the source added.
A roadside bomb struck a! police patrol near a crowded market in Abu Ghraib area, some 25 km west of Baghdad, killing a policeman and wounding five people, including three policemen, the source said.
Insurgent attacks continue in the volatile Sunni Arab area west of Baghdad that stretches through Anbar province to Iraq's borders with Syria, Jordan and Saudi Arabia.
Iraq is witnessing its worst eruption of violence in recent years. According to the UN Assistance Mission for Iraq, almost 7,000 Iraqis were killed and over 16,000 others injured from January to October this year.
Don't miss the stories
followIndiaVision India News & Information
and let's be smart!