Biggest Typhoon storm of the year slams Philippines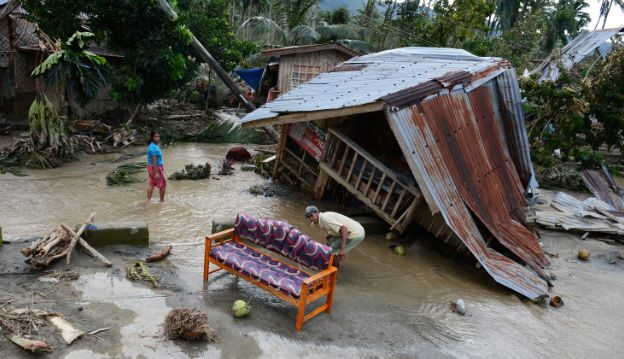 Biggest Typhoon storm of the year slams Philippines
The world's strongest typhoon of the year has slammed into the Philippines and was poised to be the strongest tropical cyclone ever recorded at landfall, a weather expert said.
"There will be catastrophic damage," said Jeff Masters, a former hurricane meteorologist who is meteorology director at the private firm Weather Underground.
The US Navy's Joint Typhoon Warning Center in Hawaii shortly before landfall said Typhoon Haiyan's maximum sustained winds were 314 kilometers per hour, with gusts up to 379kph.
"There aren't too many buildings constructed that can withstand that kind of wind," Masters said.
The local weather bureau had a lower reading, saying the storm's speed at landfall had sustained winds at 234kph, with gusts of 275kph. The bureau takes measures based on longer periods of time.
Thousands of people have been evacuated villages in the country's central regions, including a province devastated by an earthquake last month.
The typhoon intensified and accelerated on Thursday as it moved closer to the country, with sustained winds of 225kph, and is expected to hit the eastern province of Samar early Friday, government forecaster Buddy Javier said.
David Carden, who heads the UN Office for the Coordination of Humanitarian Affairs, told Al Jazeera the typhoon is still crossing central Philippines.
"We have heard there had been high storm surges, in some areas as high as the second floor of houses," he said.
"In the areas directly affected there is no power. People have no water and [there has been] significant damage to shelters. Information is still coming in and we are, of course, very concerned."
President Benigno Aquino III gave warning to people to leave high-risk areas, including 100 coastal communities where forecasters said the storm surge could reach up to seven metres. He urged seafarers to stay in port.
War-like preparations
Aquino also assured the public of war-like preparations: three C-130 air force planes, 32 helicopters and 20 ships were on standby.
"No typhoon can bring Filipinos to their knees if we're united," he said in a televised address.
Edgardo Chatto, governor of Bohol island province in the central Philippines, where an earthquake in October killed more than 200 people, said soldiers, police and rescue units were helping displaced residents, including thousands staying in small tents, move to shelters.
Bohol is not forecast to receive a direct hit but is expected to be battered by strong winds and rain, government forecaster Jori Loiz said.
Haiyan is forecast to barrel through the country's central region on Friday and Saturday before blowing towards the South China Sea over the weekend, heading towards Vietnam. It is the 24th such storm to hit the Philippines this year.
Don't miss the stories
followIndiaVision India News & Information
and let's be smart!