Floods in Pakistan, India blamed on lack of planning, climate change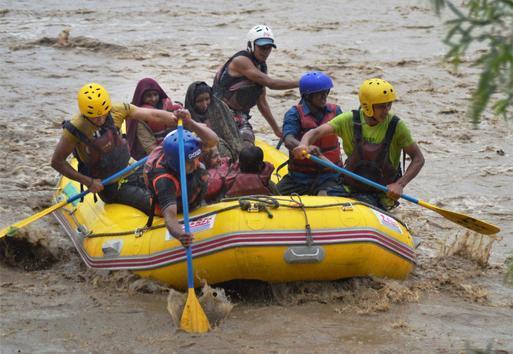 The devastating floods in India and Pakistan are a result of deforestation, unplanned development and climate change, experts said Thursday, and the region could see an increase in such disasters in the coming years. Some 215 people have died since last week in what has been described as the worst flooding to hit India's Jammu and Kashmir state in a century. In Pakistan, the toll climbed to 250. 

"The Kashmir floods are a grim reminder that climate change is now hitting India harder," said Chandra Bhushan from the Centre of Science and Environment (CSE) in New Delhi. "In the last 10 years, several extreme rainfall events have rocked the country and this is the latest calamity in that series." Floods killed thousands and caused widespread devastation in Mumbai in 2004, in Kashmir's Ladakh region in 2010 and in Uttarakhand, another Himalayan state, last year. 

The latest research and most climate models showed that floods and droughts are likely to increase in India as the world continues to warm. "India will get more rainfall but in lesser number of rainy days. An increase in extreme precipitation during monsoons is also predicted," the CSE said. 

Environmental experts say massive deforestation, particularly in the Himalayas, aggravated the damage and caused landslides. With mountains being stripped of trees, fast-flowing rivers were causing soil erosion and flash floods. The scale of the disaster in Kashmir was exacerbated by unplanned development, particularly on the riverbanks. In Pakistan's central province of Punjab and parts of Kashmir, officials point to the same reasons. Water minister, Khwaja Asif, said there were less than 20 waterways from the Himalayas to the Indian Ocean in the south compared to 200 earlier, because of encroachment by houses and shops, and this was leading to flooding. Environmental experts underlined improving forecasting systems and building disaster management capacities at local levels. "If we do not do anything, disasters like the one in Kashmir will happen every year," Bhushan said. 
Don't miss the stories
followIndiaVision News & Information
and let's be smart!