Hong Kong blocks BBC site after video of police beating is aired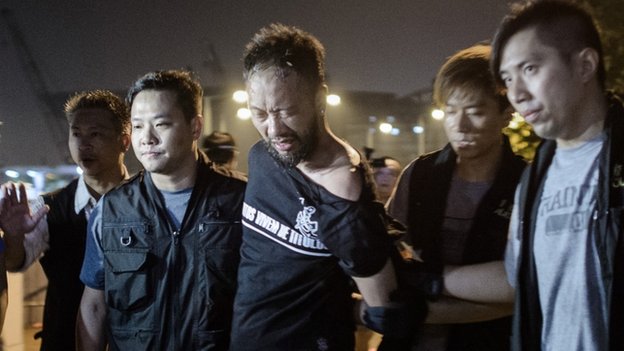 BEIJING — The BBC's website was blocked in China on Wednesday, hours after a video of Hong Kong police beating and kicking a pro-democracy protester began circulating online.
The move appears to be the first time the British broadcaster's English-language website has been completely blocked in China since December 2010, when it was inaccessible for days before the Nobel Peace Prize award ceremony for Chinese dissident Liu Xiaobo. The BBC's Chinese-language website has been blocked in China since it was launched in 1999, aside from a few months around the time of the 2008 Beijing Olympics.
BBC director of global news Peter Horrocks said that the move "appears to be deliberate censorship. The BBC strongly condemns any attempts to restrict free access to news and information and we are protesting to the Chinese authorities.
"The BBC provides impartial, trusted news to millions of people around the world, and attempts to censor our news services show just how important it is to get our accurate information to them," Mr Horrocks added.
In a Twitter post on Wednesday, the BBC's Asia bureau chief, Jo Floto, noted that Chinese authorities usually black out BBC World during Hong Kong reports.
A cofounder of the anticensorship group GreatFire.org, Charlie Smith, confirmed that the broadcaster's website was blocked in China on Wednesday.
China's Communist Party oversees a vast censorship system that aggressively blocks sites or snuffs out internet and TV content, and commentary on topics considered sensitive, such as Beijing's human rights record and criticisms of the government.
The New York Times and Bloomberg have had their websites blocked in China since they published investigations in 2012 into the family wealth of former premier Wen Jiabao and President Xi Jinping respectively.
As pro-democracy protests in China's semi-autonomous region of Hong Kong escalated late last month, online censors moved to block the photo-sharing application Instagram, which joined Facebook, YouTube and Twitter as popular social media platforms inaccessible in mainland China.
The blocking of the BBC's website came as a video of Hong Kong police beating a pro-democracy protester went viral on the internet. In the video, released by Hong Kong TV network TVB, six plain-clothes officers are shown assaulting a handcuffed and unarmed protester for several minutes.
The footage sparked outrage and calls for prosecution from activists and legislators. Hong Kong's security chief said on Wednesday that the accused officers had been "removed" from their posts.
TVB's website remains accessible in mainland China, though Chinese-language links to reports on the video have been blocked.
CNN's website was also not blocked on Wednesday, even though the Hong Kong police brutality video was the top item on the broadcaster's home page.
Prominent Hong Kong tycoon, Li Ka-shing, on Wednesday urged protesters, who have occupied parts of the city since late last month, to go home after police mounted their toughest action against the democracy activists in more than a week.
Police arrested about 45 protesters very early on Wednesday, using pepper spray against those who resisted, as they cleared a main road in the Chinese-controlled city that protesters had blocked with concrete slabs.
Outrage over the beating could galvanise support for the democracy movement in the city, where protests against Chinese restrictions on how it chooses its next leader have dwindled from about 100,000 to a few hundred.
Mr Li, Asia's richest man and chairman of property developer Cheung Kong (Holdings), had made no public comment on the protests but broke his silence to say if Hong Kong's rule of law broke down it would be the city's "greatest sorrow".
Beijing ruled on August 31 that it would screen candidates who want to run for the city's CE position in 2017, which democracy activists said rendered the universal suffrage concept meaningless.
Earlier, Hong Kong Secretary for Security Lai Tung-kwok told a news conference that police would probe the beating of the protester after he was dragged into a dark corner next to the protest site that police were trying to clear.
The leader of Hong Kong's pro-democracy Civic Party, Alan Leong, identified the person in the video as Ken Tsang Kin-chiu, saying he was a member of the party.
Civic Party legislator Dennis Kwok, representing Mr Tsang, said police also beat him inside a police station.
Mr Tsang had since been taken to hospital, he said.
Photographs released by activists showed Mr Tsang with bruising on his face and body.
Police, without referring to Mr Tsang, said that they had used minimum force, including pepper spray, to disperse protesters who had gathered illegally.
The People's Daily, the Chinese Communist Party's newspaper, said in commentary that giving in to "political blackmail" would "exacerbate instability and chaos".
Don't miss the stories
followIndiaVision News & Information
and let's be smart!