India's role sought to resolve Syrian crisis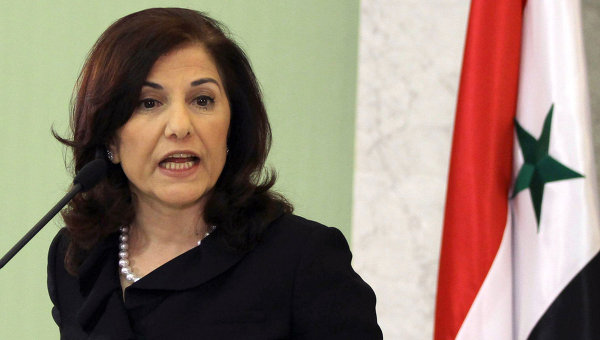 India's role sought to resolve Syrian crisis
New Delhi – Syria wants India to play an important role in finding a political solution in that strife-torn nation, according to Bouthaina Shaaban, media and political advisor to the Syrian presidency.
"We want India and the BRICS countries (Brazil, Russia, India, China and South Africa) to play an important role in the political! process, convening Geneva II and finding a solution to the crisis," Shaaban said while speaking to the media here Thursday evening after a meeting with India's External Affairs Minister Salman Khurshid.
"I met Foreign Minister Salman Khurshid today and the Indian side appreciated my coming here immediately after Moscow," she said.
Shabaan was part of a Syrian delegation that visited Moscow earlier this month to discuss the convening of the Geneva II peace conference with Russian Foreign Minister Sergei Lavrov and other leaders.
"India is a very important country for us. Not only political, we have cultural and historical ties with India. India is the country of Mahatma Gandhi and that is why we want India to play an important role in the political process and in Geneva," Shaaban said.
Stating that the Syrian government wanted the unipolar system to end and a multi-polar system to work, she said that India was an important country and was entitle! d to be an important factor in a multipolar system.
"We are happ! y to see the foreign minister of China, the foreign minister of Russia and the foreign minister of India getting together. We are happy to see BRICS because these are important poles in a multi-polar system," the Syrian official said.
China, India and Russia had Nov 10 stressed the need to find a political solution to the Syrian crisis when the foreign ministers of the three countries met in New Delhi.
Lavrov had said all three countries hoped the Geneva II conference on Syria would be held as soon as possible.
The Geneva I conference was held June 30, 2012, and adopted a communique seeking to find a diplomatic solution to Syria's prolonged conflict.
Stating that India was an important country for all Arabs, Shabaan said that "we have an emotional attachment with India".
"We would like India to be in Geneva II and we think India too would like to be in Geneva II."
According to Shaaban, it is the Syrian people who will have to decide! the political future and for that, elections have to be held.
She appreciated the stand taken by Russia on the Syrian issue which she said was in line with the UN Charter.
Referring to the US-Russian joint strategy for Syria, she said that while Russia was dealing with the Syrian government, the US was supposed to deal with the Syrian opposition to bring them to Geneva.
She said that according to the formula being worked out to hold Geneva II, the opposition should be representative of the Syrian people.
"For us and the Russians, we are ready for Geneva II. But about the Americans, the Western (countries) and the (Syrian) opposition, we don't know. If you ask me if they would agree to convene (Geneva II) in December, I have no clue," Shaaban said.
Don't miss the stories
followIndiaVision India News & Information
and let's be smart!