Syria's chemical weapons probe "could be useful" in further inquiry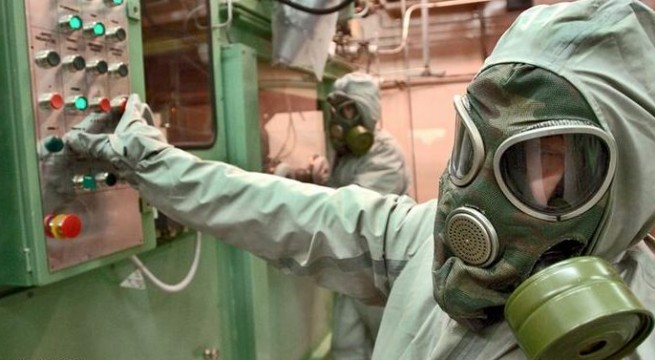 Syria's chemical weapons probe "could be useful" in further inquiry
United Nations –  The UN's top inspector of Syria chemical arms said Friday his team's report "could be useful" in any possible further investigation into who used the weapons.
Swedish scientist Ake Sellstrom, head of the UN mission which submitted its final report to UN Secretary-General Ban Ki-moon, however, refused to speculate on who might have used chemical weapons in any of the sev! en attacks the mission investigated out of the 16 allegations referred to it.
"We have gathered as much information as we could," Xinhua quoted Sellstrom as saying at a press briefing.
"What eventually will happen with this information, how it will be used in the future, we don't know, but it could be useful if the issue is to be pursued by some other body."
"These hats (worn on the mission) could be used by others that have the mandate to use them," he said, referring to a possible further investigation. "We don't have the mandate."
Sellstrom was appointed by the secretary-general in March to head an investigation into allegations of use of chemical weapons in Syria, but not to determine who may have used them. The mission was a joint UN-Organization for the Prohibition of Chemical Weapons (OPCW) endeavour.
"I could speculate, and I frequently, when I sit by myself or (with) my friends, I speculate on these issues," Sellstrom said.
"But I don't have information that would stand in court. I don't have! information that would stand in court if I was the one to be in court."
At the outset of the session with reporters, Sellstrom explained that "to go into attribution (of the chemical weapons attack) requires quite some more effort".
He said the guidelines the UN-OPCW team was working under were "set by member states and they are not very intrusive. I think it was a wise decision that we didn't go into attribution".
He was accompanied at the briefing by UN Under-secretary-General Angela Kane, the UN high representative for disarmament affairs, Scott Cairns of the OPCW and Maurizio Barbeschi of the World Health Organization (WHO).
They were as careful as Sellstrom in not giving a hint of any of their suspicions as to who the perpetrators might be.
Asked if the team had enough time for their investigation, especially considering it was carried out in a nation undergoing civil war, Sellstrom replied, "Given the circumstances, I think we had e! nough time and resources".
Sellstrom and his colleagues gathered information and evidence, including fragments of possible weapons, interviews from witnesses, samples taken from alleged victims of chemical weapon attacks, and preserved all the evidence through a chain of custody that still exists.
Don't miss the stories
followIndiaVision News & Information
and let's be smart!