U.S. Backs Sunni Plan to Fight Islamic State Jihadists in Iraq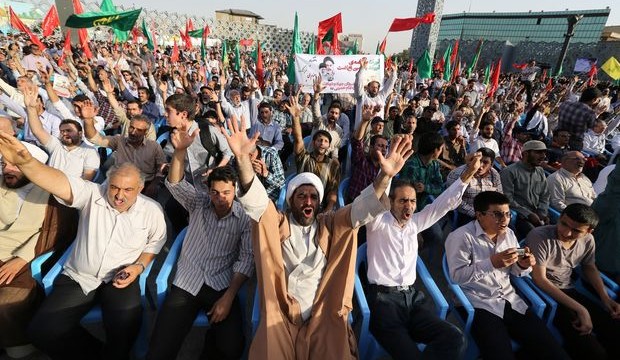 BAGHDAD—The U.S. is holding talks with Sunni Muslim officials in Iraq who have requested help in organizing grass-roots fighting forces to counter an extremist militant group seizing territory across the country.
The meetings follow an outreach by Iraqi governors of Sunni-dominant provinces, who sent letters to Secretary of State John Kerry in late June seeking U.S. support before the jihadist group, which calls itself the Islamic State, drags "the whole region into darkness with them."
After a series of smaller rendezvous, U.S. officials met last week with the governors, tribal leaders and other Iraqi politicians in the city of Erbil to discuss recruiting and organizing fighters in four Sunni-dominant provinces where the Islamic State has snatched territory, said several participants.
In Washington, officials believe breaking Sunni tribes away from the Islamic State is critical to the long-term security and territorial integrity of Iraq. Some Arab and American officials say the effort is a cornerstone of a developing strategy to confront jihadist threats across the Middle East.But the plan faces hurdles, in no small part because it is haunted by the legacy of a similar past project.
Many Sunni leaders, who say they have been disenfranchised and persecuted by Iraqi Prime Minister Nouri al-Maliki's Shiite-dominant government, say his departure is a precondition to their involvement.
U.S. officials also are skeptical that any progress can be made until a new government, without Mr. Maliki, is in place. Mr. Maliki is determined to remain; Iraq's parliament is constitutionally required to pick a prime minister by this week's end.
The provinces involved are Nineveh, Salaheddine, Diyala and Anbar, which was the heart of the U.S.-led Sunni revolt against al Qaeda from late 2006 to 2008.
That campaign, called the Sunni Awakening or Sahwa in Arabic, provides a cautionary tale for the current effort, say its former leaders.
While the uprising succeeded in thwarting al Qaeda, the Sunni fighters involved say they were abandoned by the U.S., which handed the program to the government in 2009 under pressure from Mr. Maliki, U.S. officials say. The movement faced a hostile government, which stopped or delayed payments, and renewed al Qaeda attacks, former Sahwa leaders say.
Iraqi Sunni leaders involved in the new project's planning insist that this effort be different. They want to build localized professional security forces, rather than tribe-driven militias, that some say may later be integrated into the national army.
The effort has taken on new urgency as fighters from the Islamic State—formerly known as the Islamic State of Iraq and al-Sham, or ISIS—widen their offensive in Iraq, this week into Kurdish-held territories.
Sunnis are split over their support for the Islamic State, an al Qaeda spinoff, who many dislike but view as convenient battlefield allies to Mr. Maliki's government. Others are battling the militants, including ex-Sahwa fighters. And tensions remain between tribal leaders tugged by tribal loyalties and civil authorities who want to direct control of the forces.
"In Anbar, tribes are fighting the Islamic State in all places," Anbar Gov. Ahmad Dulaimi said.
But Awad Saed, a tribal sheik from Haditha, a town in western Anbar, said the fight is uneven.
"The enemy is highly aggressive," he said from the farming town on the Euphrates. Mr. Saed said his father worked with the U.S. during the Awakening but was later killed by al Qaeda. He worries he may share the same fate.
Meanwhile, the Obama administration has considered sending Gen. John Allen, the former top military commander who helped lead the Awakening, to play an advisory role in organizing the Sunni tribes. In their letters to Mr. Kerry, the tribal leaders sought his involvement.
U.S. officials say the Pentagon has been actively considering engaging Sunni tribes in the fight against the Islamic State.
But some American and Iraqi officials say they don't want to resurrect a wide-scale Sunni rebellion, given the fragmentation of the tribes and other groups, their varying political aims and their limited military abilities. The recent talks instead focused on building local forces.
"We don't want a new Sahwa, or militias that will be targeted or let down later," said Ahmed Al Jubouri, governor of Salaheddine province. "We need a formal force connected with the defense ministry that can protect our borders, maintain Iraq's unity, and fight terrorism."
Former military officials said effective U.S. support for such forces could involve assigning special operations trainers to each group. The tribal forces "can penetrate and saturate areas, and [U.S. forces] would try to help them with coordination," said Col. Richard Welch, a retired Special Forces Officer who worked closely with Iraqi tribes during the Awakening.
"If the U.S. were to say privately, 'we'll support you,' they will rise up and you will see ISIS gone in a few months," he said.
In a Senate testimony last month, Brett McGurk, deputy assistant secretary for Iraq and Iran, said a large-scale tribal uprising against the Islamic State is unlikely "absent some military pressure" on the group, which he said the tribes are unable to do alone.
Among those who have met repeatedly with American officials in recent weeks to discuss the Sunni strategy is Ahmed Abu Risha, a leader of the former Sahwa movement. Mr. Risha met with Army Gen. Lloyd Austin, head of U.S. military operations in the Middle East, on his visit to Iraq in late July, tribal leaders said.
Messrs. Jubouri and Dulaimi were two of four provincial governors gathered last week in the Erbil meeting, said Mr. Jubouri and two other attendees. The meeting "was held to discuss the formation of Sahwa forces to fight the Islamic State," one participant said.
Mr. Dulaimi denied the meeting took place, though two others there confirmed his attendance. Nineveh province governor Atheel al-Nujaifi declined to discuss any meetings but said there was a plan to build localized Sunni "resistance forces" in each province. The fourth, the governor of Diyala, couldn't be reached for comment.
Other meeting participants said the discussion focused on who might be eligible to join fighting forces in each province, from among the tribes and the community of Sunni former army officers under Saddam Hussein who were left out of military service when the Iraqi army was disbanded after the U.S. invasion in 2003.
Mr. Jubouri said Iraqi and American officials suggested provincial leaders each submit names and contact information for suggested fighters "within 10 days." Stuart Jones, who was confirmed as the next U.S. ambassador to Iraq but hasn't assumed the post yet, was there and supported this idea, Mr. Jubouri and the two other attendees said. Mr. Jones served as Iraq country director for the national security staff under George W. Bush in 2004.
A spokesman for the U.S. Embassy in Baghdad declined to comment on the meeting or its participants.
Rafe Al-Essawi, a Sunni and former senior official in Mr. Maliki's government, has led the effort to organize tribal and local leaders and helped convene the meeting, attendees said. Mr. Essawi left Baghdad after an attempt to assassinate him.
Given the hostility Sunnis feel from Mr. Maliki, tribal officials were surprised to see the leader's National Security Adviser, Faleh Fayad, at the Erbil meeting last week. His presence signaled Mr. Maliki was aware, if not involved, in the initiative.
Mr. Essawi didn't respond to requests for comment. Mr. Fayad's office didn't respond to a request for comment, but a spokesman for the prime minister said organizing Sunni tribes to defend their territories has long been a government strategy.
"We've been trying that even before the Islamic State attack on Mosul, but now we can say it's come into force more strongly," said Ali al-Mussawi, the spokesman. "There is great dependence on the tribes."
Last week's meeting came after Mr. Essawi, the Anbar and Nineveh governors, and other provincial council leaders sent letters to Mr. Kerry seeking help to defeat the insurgency.
"It is not too late for us to not only stop them, but to crush them in Iraq like we did before," Mr. Dulaimi, the Anbar governor, wrote in one letter signed and dated June 30.
In another, Nineveh governor Atheel Nujaifi says: "There are thousands of elements in my city that need to be recruited legally…that would fight with their last drop of blood to push these terrorists out. My city needs the wisdom and counsel of a senior trusted American security professional."
Don't miss the stories
followIndiaVision News & Information
and let's be smart!