Indian student assaulted in Australia, brother seeks justice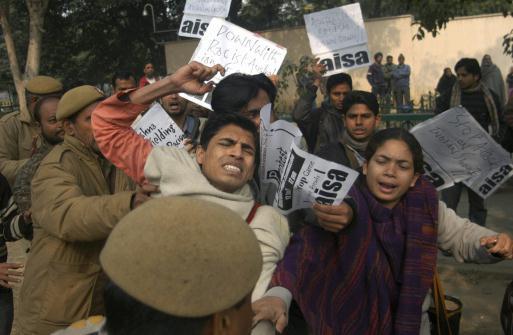 Indian student assaulted in Australia, brother seeks justice
Melbourne – A 20-year-old Indian student was seriously injured after he was brutally assaulted and robbed in Australia's Melbourne city, a media report said Monday.
The student, Manriajwinder Singh of Reservoir, a suburb in Melbourne, was nearly beaten to death by a gang in a city park Sunday, The Age reported.
According to a CCTV footage released by police, Manriajwinder Singh, standing near the footpath with another friend at Birrarung Marr park, were approached by eight men of African appearance and one fair-skinned woman Sunday.
After a brief conversation between the group and the two victims, one of the attackers kicked Manriajwinder Singh in the jaw, causing him to fall unconscious, the report quoted police officer Adam Foley as saying.
Meanwhile, the others "set upon the other victim, punching and kicking him" before knocking him to the ground.
"While this was occurring, another man picked up a stick and beat the unconscious victim with it," Foley said.
The attackers, aged in their late teens to early 20s, then robbed the two victims of their phones and ran away, the daily's report said.
A third man, a friend of Manriajwinder Singh, who was talking on the phone at the time of the attack, managed to run away and alert the police.
Manriajwinder Singh was taken to The Alfred hospital with life-threatening injuries, and has since been transferred to the intensive care unit after being placed in an induced coma, Foley said. His injuries are no longer life-threatening.
The other victim suffered swelling and abrasions to his face. He was treated by paramedics at the scene.
Police have not been able to track down the stolen phones and are appealing to the public for information on the assault.
"Obviously, this was an opportunistic crime. They saw two vulnerable victims minding their own business, and targeted them. It's just disgusting what they did, they're just cowards," Foley said.
Meanwhile, Manriajwinder Singh's brother Yadwinder Singh said he wants the attackers to be "caught and punished so innocent people like my brother and his friend don't get bashed like this".
Yadwinder Singh said his brother was studying for a bachelor of commerce degree at a university in Melbourne, and had only been in Australia for a year.
"I didn't know how to react. I didn't know what to do. I didn't want to tell my mother, as she's not really strong of heart. I just couldn't believe it – it was really terrible," he said.
"My brother is only 20 years old, and he's very innocent and doesn't speak much. He told me he wanted to go out that night, but I said no, not today, maybe another day. But he said he really wanted to see the city."
Don't miss the stories
followIndiaVision India News & Information
and let's be smart!