Australian PM 'very confident' audio signals are from black box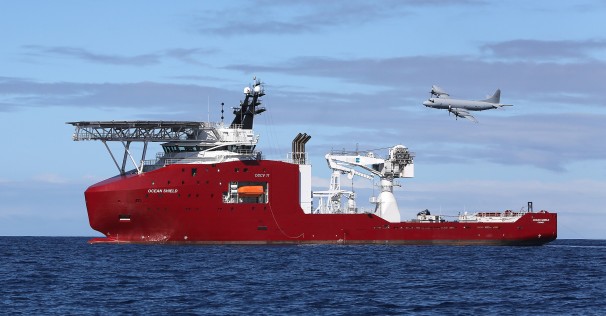 BEIJING : Authorities are confident that a series of underwater signals in the Indian Ocean are coming from a missing Malaysian Airlines plane, Australia's prime minister said Friday, while warning that those signals are beginning to fade.
Tony Abbott told reporters in the Chinese city of Shanghai that searchers had narrowed down the area where they hoped to locate the wreckage of the plane on the ocean floor, by listening for pings from emergency location beacons built into the plane's flight data and cockpit voice recorders, the Associated Press reported. Audio transmissions were picked by the Australian Navy vessel the Ocean Shield in four separate locations on April 5 and April 8, using a Towed Pinger Locator supplied by the U.S. Navy and dangled deep into the sea.
But no further sounds have been heard since Tuesday, and efforts to triangulate those sounds into a more precise location for the plane are racing against time, as the batteries powering those location beacons have already surpassed their 30-day advertised shelf life.
"We are confident that we know the position of the black box flight recorder to within some kilometers, but confidence in the approximate position of the black box is not the same as recovering wreckage from almost 4 ½ kilometers (three miles) beneath the sea or finally determining all that happened on that flight," Abbott said.
Abbott said that some of audio signals had been tracked over "quite a long period of time", helping to narrow down the search area.
"Nevertheless, we're getting to the stage where the signal from what we are very confident is the black box is starting to fade," he said. "We are hoping to get as much information as we can before the signal finally expires."
A fifth acoustic signal was picked up by an Australian aircraft on Thursday but retired Air Chief Marshal Angus Houston, who is in charge of the search, said that detailed analysis had suggested this was "unlikely to be related" to the missing plane.
"Further analysis continues to be undertaken by Australian Joint Acoustic Analysis Centre," he said in a statement on Friday.
Friday's search was focused on three areas in the Indian Ocean: two larger areas where ships and aircraft were searching for any debris from the missing plane, and a third, much smaller area, where ships and sonar buoys were listening for pings from the black boxes.
Don't miss the stories
followIndiaVision India News & Information
and let's be smart!