Deaths, Power Outages in South; Storm Heads North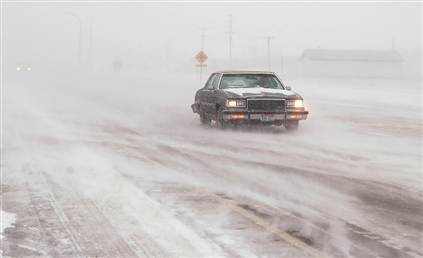 Small armies of utility workers labored to turn the lights — and the heat — back on for hundreds of thousands of Southerners as a winter storm that left them without power threatened major cities further up the East Coast.
The Deep South remained a world of ice-laden trees and driveways early Thursday after several unusual days of sleet and snow brought by a powerful system that could bring more than a foot of snow to such metropolises as Philadelphia, Washington and Boston.
At least 12 deaths across the South have been blamed on the stormy weather and nearly 3,300 flights nationwide were canceled with another day of complicated air and road travel ahead Thursday, particularly in the Northeast.
Drivers in and around Raleigh, N.C., became snarled Wednesday in huge traffic jams and abandoned cars in scenes reminiscent of motorist woes in Atlanta during a storm two weeks earlier. In Atlanta, many streets were eerily quiet this storm, with drivers heeding dire warnings to stay off the roads. State troopers say they worked more than 200 crashes in Georgia.
For some on slick, snow-covered interstates in North Carolina, commutes that should take minutes lasted hours after many got on the highways just as soon as snow and sleet began at midday.
And in South Carolina, more accustomed to occasional hurricanes, some could only relate the damage from ice-snapped tree limbs to that of bygone Hurricane Hugo. Even normally balmy Myrtle Beach, where millions of visitors cavort each summer, cars were coated in thick ice that also frosted palm trees and kiddie rides by the shore.
"I hate driving on this," grumbled South Carolina resident Mindy Taylor, 43, on her way for rock salt, kitty litter or anything else to melt the ice. "Hopefully it'll warm up by the weekend and it will all melt. I'm ready for Spring."
In Alabama, forecasters gleefully spoke of weekend temperatures reaching the 60s after inches of snow or sleet in its northern parts.
The snow, sleet and freezing rain that iced Southern highways also knocked out electricity to more than half a million homes and business as it advanced Thursday up the Interstate 95 corridor to the winter-weary Mid-Atlantic states.
Some Southerners who two weeks ago reveled in the so-called "snow jam" sounded tired this time of sleet and ice encasing highways, trees and even the tombstones of a cemetery replete with Confederate graves.
Bethany Lanier, 32, was walking in a mostly empty square in the Atlanta suburb of Decatur with Lindsay Futterman, a 30-year-old charter school teacher as they debated whether to get a drink at a pub.
If classes are canceled Friday, the charter school students will have missed nine days of school. To make up days, administrators have canceled a three-day break.
"Now, we're out because we have cabin fever," Lanier said as Futterman added: "It's kind of annoying now."
Many Southerners took to makeshift sleds on the ice and snow, with at least seven people hospitalized in sledding accidents just in Georgia. Four people were hurt sledding in a kayak that crashed into a pole, said Fire Chief Ricky Pruit in Cleveland, Ga. One victim suffered leg injuries, another was knocked unconscious and lost several teeth and the other two refused treatment, he said.
Don't miss the stories
followIndiaVision India News & Information
and let's be smart!