Dian Fossey's 82nd birthday celebrated with Google Doodle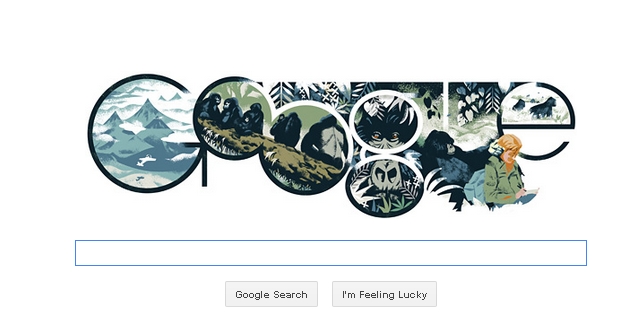 Google has celebrated the 82nd birthday of late American zoologist Dian Fossey with a Doodle on its search page.
The image, already visible on the Australian Google home-page, features a group of gorillas, with one touching Dian Fossey's hair while she makes notes.
It will appear on the UK's Google search page at midnight.
A US zoologist, Fossey studied gorillas living in the mountain forests of Rwanda, Africa, in great depth over a period of 18 years.
Her extensive research greatly enriched the scientific community's understanding of mountain gorillas.
Life and career :
Dian Fossey was born in San Francisco, California to George E. Fossey III, an insurance agent, and Kathryn "Kitty" (Kidd) Fossey, a fashion model. Her father was a US Navy sailor. Her parents divorced when Dian was aged 6. Her mother remarried the following year, to businessman Richard Price. Her father tried to keep in contact, but her mother discouraged it, and all contact was subsequently lost. Dian's stepfather, Richard Price, never treated Dian as his own child. He would not allow Dian to sit at the dining room table with him or Dian's mother during dinner meals. A man adhering to strict discipline, Richard Price offered Dian little to no emotional support. Struggling with personal insecurity, Dian turned to animals as a way to gain acceptance. Her love for animals began with her first pet goldfish and continued throughout her entire life. At age six, she began horse riding, earning a letter from her school; by her graduation in 1954, Fossey had established herself as an equestrienne.
As a child, Fossey dreamed of becoming a veterinarian. After studying the subject at San Jose State College, on the US west coast, she changed her major to occupational therapy. During this time she became more interested in Africa, and retained her interest in animals.
During a six-week sabbatical in Africa in 1963, Fossey met Dr Louis Leakey, a renowned paleoanthropologist and archaeologist, who alerted her to the lack of research on great apes.
By 1966, she had won funding from the National Geographic Society and the Wilkie Brothers' Foundation to begin a research project in the Congo.  The political turmoil at the time saw her move the study to Rwanda.
In 1967, she founded the Karisoke Research Center in Rwanda's Parc National des Volcans.
Fossey died in 1985 when she was killed in her cabin in Karisoke. The Digit Fund, which she created to finance her anti-poaching patrols, was renamed the Dian Fossey Gorilla Fund International following her death.
The Fund's projects continue to protect gorillas in Africa from poaching.
Opposition to tourism :
Dian Fossey strongly opposed tourism, as gorillas are very susceptible to diseases by humans like the flu for which they have no immunity. Dian Fossey reported several cases in which gorillas died because of diseases spread by tourists. She also viewed tourism as an interference into their natural wild behaviour. Fossey also criticised tourist programs, often paid for by international conservation organisations, for interfering with both her research and the peace of the mountain gorillas' habitat. Today, however, the Dian Fossey Gorilla Fund International recognizes the importance of tourism in helping to create a stable and sustainable local community dedicated to protecting the gorillas and their habitat.
Don't miss the stories
followIndiaVision India News & Information
and let's be smart!