Dimapur rape and mob justice: Five lessons from this double-crime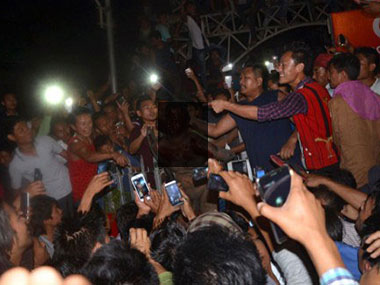 Several sobering lessons need to be learnt from the lynching of 35-year-old Syed Farid Khan in Dimapur on 5 March, allegedly for the rape of a 20-year-old Naga girl last month. A mob running into several thousand raided a local jail, got Khan out, paraded him naked, and killed him in full public view. The police could do nothing, and the mob seemed to have no sense of shame in what it was doing.
More than the Delhi gangrape, which saw peaceful protests that brought national focus to this issue, Dimapur tells us a more important story about where we are failing. It's not about India's Daughter, but India's Sons – who are not getting any concerted societal attention (read more about that here). The Dimapur lynchmob was largely male, even though a few women were visible in videos of the event. It's almost as if the Naga men were turning more brutal in order to compensate for their own guilt on how they treat women.
It is we learnt to acknowledge a few truths that are screaming to be heard from Dimapur.
First, and most important, is this point: the lynching happened because the Indian state has been unable to make the rule of law stick anywhere. Nagaland, for example, is one of the most highly policed states, with the army having a strong and permanent presence there in order to control the local secessionist movements. But the rule of law does not operate here, just as it does not in the rest of India, to varying degrees. When this does not happen, citizens will take the law into their own hands. The first, and most important lesson we need to learn from the Dimapur lynching is this: establishing the rule of law has to be given priority over everything else, including freebies for the poor. The legitimacy of any government depends on the rule of law, and establishing efficient policing and a judicial system that is fast, fair and transparent is Priority No 1.Second, xenophobia and misogyny are not the monopoly of any religious or ethnic group in India – or elsewhere. The Nagas who killed Khan were not merely protesting against rape in general, but rape by an "outsider". This is as patriarchal as you can get, where the issue is not really the crime, but about "those guys" doing it to "our girls." This is the only thing that can explain the widespread public backing for a public lynching and brutal, mob-delivered justice. I doubt the crowd would ever have done this if the rape had involved a Naga local.
Third, this is not a crime you can happily attribute to the Sangh parivar or its various fronts. Nagaland is more than 90 percent Christian, and has been so for decades. Its church plays a very important role in the lives of ordinary Nagas. So, the chances are no documentaries will be made on this daughter of India. Instead, the focus will probably be on the Indian state, and its failures. That is needed, but shouldn't the Nagas be shown the mirror too?
Fourth, concerns about illegal immigration from an over-populated Bangladesh – thus far dismissed by "secularists" as being the result of the Sangh's anti-Muslim propaganda – are obviously not restricted to Assam. The truth is almost the whole of the north-east is being affected by illegal migration, and four of the seven north-eastern states are not Hindu dominated at all. Quite the reverse. The Bangladeshi influx and differences in population growth rates have impacted the religious and ethnic demography balances of all north-eastern states. In Nagaland, the 2001 census showed Muslim and Christian populations up by nearly 70 percent while the Hindu share was falling. The bulk of Nagaland's Muslims are in Kohima and Dimapur, where the lynching took place. The details of the 2011 census are awaited. But it is more than likely that Nagaland's local Christians have begun to get worried about the Muslim influx.
This factor too makes the rule of law important. If we can't control or regulate who comes into India or goes out through a citizenship law that can be enforced rigorously, how can we control our own destiny?
Fifth, and an equally important lesson to learn, is this: secession is often just another face of bigotry. The Naga anger against someone who may (or may not be) an illegal immigrant shows how the "us versus them" logic plays out in secessionist movements. The Nagas do not want "outsiders" to live in their territory, but this is a truth we don't want to acknowledge.
Our "liberals" prefer to talk about how India is oppressing small sub-national groups, whether it is in Nagaland or Jammu & Kashmir. This may be partly true because the army is being used to impose law and order and prevent secession; but the other half of the coin is bigotry: local groups that couch xenophobia as the right to self-determination. How is it right for the Nagas or Kashmiris to decide who will not enter or reside in their part of Indian territory? We preach the need for India to be an open society, and liberal with its immigration policies, but the same should not apply to Nagaland or Mizoram or Jammu & Kashmir? We can have ethnic cleansing in Kashmir and Nagaland, but Assam must accept all available immigrants from Bangladesh? Tripura has already reduced its indigenous tribals to a minority.
Don't miss the stories
followIndiaVision India News & Information
and let's be smart!