Disgraced Chinese general Xu Caihou dies of cancer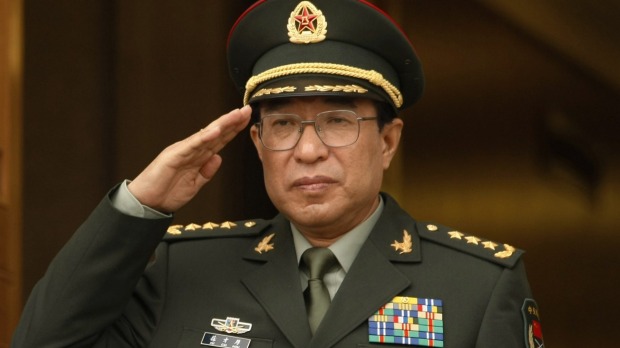 Beijing: The disgraced former Chinese general Xu Caihou, one of the highest-ranking officials to be netted in President Xi Jinping's anti-corruption drive, has died of bladder cancer, the official Xinhua news agency reported.
Xu, who was 71, was expelled from the Communist Party in June and had been facing trial after being accused of taking "extremely huge bribes" in exchange for promotions and other favours.
It had been a dramatic fall from grace for the former general, who until 2012 was vice-chairman of the party's Central Military Commission and a member of China's elite 25-member Politburo, revealing the rampant buying and selling of military ranks which have led some to question the combat-readiness of the world's largest army.
Accounts of Xu's advanced-stage illness had circulated in Chinese political circles even before his corruption inquiry was announced, and Xinhua said Xu died in hospital on Sunday after the cancer had spread and resulted in the failure of multiple organs. His death was reported with none of the prominence and ceremony usually reserved for senior leaders. Instead the official news website of the People's Liberation Army carried a scathing editorial admonishing Xu, showing scant sympathy even in death.
"Xu Caihou, that once prominent wearer of the general's uniform, died with his reputation in tatters," it said. "The end of his shameful, pathetic life came while being under surveillance at his hospital bed."
But in death, Xu will never be personally brought to justice after what has now been revealed as a 35-year-long military career indulging in corruption. A terse report carried by Xinhua said the criminal proceedings against Xu would not proceed because of his death.
When investigators searched his home in Beijing, it took more than 10 trucks to haul boxes of cash and precious gems from his basement. The cash was reportedly neatly labelled with the name of the soldier who had paid the bribe in exchange for a certain rank.
The People's Liberation Army has been a major focus of Mr Xi's anti-corruption campaign, both in consolidating his control on the armed forces and in modernising a military to match up with China's expanding national interests.
In the past two months, the party has announced a further 30 senior-ranking military leaders were being investigated for corruption, including the son of retired general Guo Boxiong, the other military representative on the Politburo during Xu's tenure.
Xu is also thought to have been tainted by his association with another senior officer, Lieutenant-General Gu Junshan, who has also been charged with bribery and embezzlement.
"Corruption in the army is the most dangerous corruption of all," the army website editorial said. "And any tolerance of corruption means tolerance of being defeated."
Don't miss the stories
followIndiaVision India News & Information
and let's be smart!