First Ebola case in New York; doctor tested positive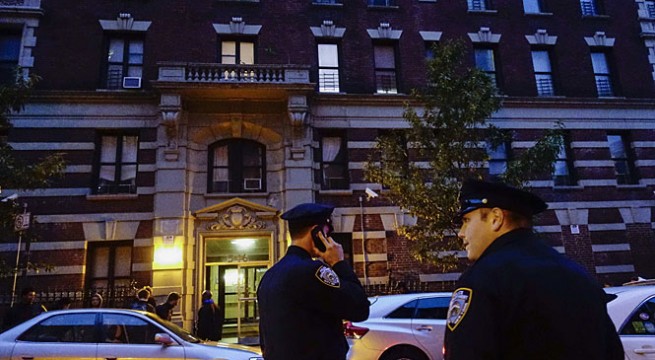 A physician with Doctors Without Borders who returned to New York City after treating Ebola victims in West Africa tested positive for the virus on Thursday, setting off fresh fears about the spread of the disease.
Mayor Bill de Blasio sought to reassure New Yorkers they are safe from Ebola, even as officials disclosed that Dr. Craig Spencer had traveled around the city on subways, taken a taxi and visited a bowling alley in the period between returning from Guinea and developing symptoms.
Spencer, 33, who returned to the United States on October 17,  had been taking his temperature twice daily as a precaution to watch for any Ebola symptoms, and first developed a fever on Thursday morning, officials said, stressing that without symptoms, he was not contagious. Police officers guard the building on Thursday where Dr. Craig Spencer lives in New York. Spencer, who worked in West Africa with Ebola patients, tested positive for Ebola and was in isolation at Bellevue Hospital. Reuters
Spencer was the fourth case to be diagnosed with Ebola in the United States, and the first case in America's largest city, setting off renewed fears about the spread of the virus, which has killed nearly 4,900 people, largely in Liberia, Sierra Leone and Guinea.
"There is no reason for New Yorkers to be alarmed," de Blasio said at a news conference at Bellevue Hospital, where Spencer was taken on Thursday morning and where he is being treated in isolation.
"Being on the same subway car or living near someone with Ebola does not in itself put someone at risk," he said.
Two friends and his fiancée have been quarantined, Health commissioner Mary Travis Bassett said. Spencer's fiancee was quarantined at the hospital, the hospital said.
The US stock market reacted to the news of the new Ebola case after Spencer's test for Ebola was announced late on Thursday. S&P futures fell 9 points or 0.45%. The dollar slipped against the euro and the US 10-year Treasury rose, lowering its yield to about 2.24%.
Spencer had worked for Doctors Without Borders in Guinea, one of three West African nations hardest hit by Ebola.
He felt the first symptom about 10am ET on Thursday when he developed a fever, Bassett said. She stressed that people with Ebola become contagious only when they start feeling sick, adding, "He did not have a fever for the whole time since he left Guinea until this morning."
He had been monitoring his temperature twice a day, she said.
A specially trained team wearing protective gear transported Spencer to Bellevue Hospital from his Manhattan apartment, the city said in a statement.
A fourth person, a taxi driver, did not come into close contact and was not considered at risk, she said.
Spencer's apartment in Manhattan's Harlem neighborhood is sealed off, the health commissioner said.
His test will be sent to the Centers for Disease Control for confirmation, which should come within 24 hours, she said.
The commissioner said Spencer completed work in Guinea on Oct. 12 and left two days later. Spencer's Facebook page, which included a photo of him clad in protective gear, said he stopped over in Brussels.
Subway rides, bowling
Spencer arrived home at John F Kennedy International Airport in New York. After arriving, he took a 3-mile (4.8-km) run, rode several subways, went bowling and may have eaten at a restaurant, the health commissioner said.
A woman named Morgan Dixon was identified on Spencer's Facebook page as his fiancee. Her Linked In profile described her as a professional in nonprofit management and international development who works with the Hope Program, a career development program for homeless and welfare-dependent adults.
Don't miss the stories
followIndiaVision News & Information
and let's be smart!