For Chinese, Pope Seems Worlds Away in South Korea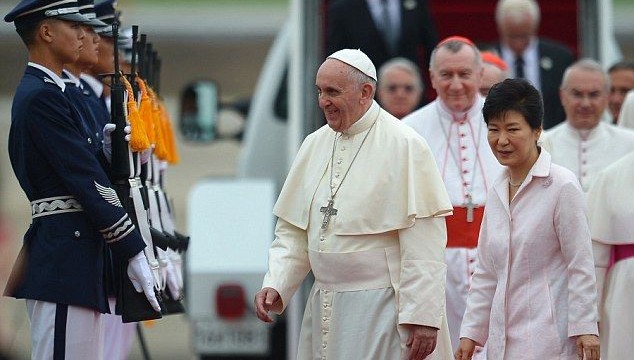 BEIJING — Pu Ge sat on a green bench outside Beijing's oldest Catholic cathedral and stared at the ornate gray edifice, contemplating God and his shepherd. She said she had thought that Pope Francis would stop in China during his current trip to Asia.
"I thought he would visit a church here and we would get a chance to meet him," said Ms. Pu, 27, a dance teacher. "I would like to meet him, but it seems so distant."
Given the long history of tensions between the Vatican and the Chinese Communist Party, the Chinese state media have been less than forthcoming with reports about the pope and the Catholic establishment. Broad coverage of the pope's first visit to East Asia, which began Thursday in South Korea, was absent here.
The sparse news treatment is indicative of the party's continuing attempts to maintain a tight grip on Catholicism, as the number of Chinese followers grows each year, and as those followers try by various means to learn more about Pope Francis.The Vatican has just as great an interest in them, and also in trying to improve relations with the Communist Party. There have been signs of some warming, even if the establishment of formal ties remains years or decades off, if the party permits it at all.
While addressing bishops south of Seoul on Sunday, the pope referred cordially to China and other Asian nations with which the Vatican does not have formal relations, in his strongest outreach yet to those governments. "In this spirit of openness to others, I earnestly hope that those countries of your continent with whom the Holy See does not yet enjoy a full relationship may not hesitate to further a dialogue for the benefit of all," he said.
He then deviated from a prepared text, according to The Associated Press. "I'm not talking here only about a political dialogue, but about a fraternal dialogue," the pope said, assuring that "Christians aren't coming as conquerors" to strip away any nation's "identity." The important thing, he said, was to "walk together."
Breaking with tradition on Thursday, the Chinese government allowed the pope's jet to fly through Chinese airspace as he traveled to Seoul. While above China, the pope broadcast via radio telegram a message to Xi Jinping, the Chinese president and party leader, offering his best wishes and blessings of peace.
Li Zhigang, a volunteer at the Xuanwumen Cathedral in southern Beijing, where Ms. Pu was sitting outdoors on Friday afternoon, said: "Of course, we'd like his blessings to be realized. Chinese Catholics are devoted followers of the pope."
Mr. Li, 55, was among a dozen people praying that afternoon inside the church, known formally as the Cathedral of the Immaculate Conception. It was established in 1605, when the Italian Jesuit missionary Matteo Ricci set up residence near here.
The priests and nuns of Xuanwumen are on one side of a sharp divide in Chinese Catholicism, which is one of five religions recognized by the party. This cathedral is officially approved by the Chinese Patriotic Catholic Association, a state organization that, to the chagrin of the Vatican, controls the practice of Catholicism in China, including the appointment of bishops.
On the other side of the divide are the so-called underground churches, which exist nationwide and are tolerated by local officials. At those churches, discussion of the pope and his authority is more open than at the official cathedrals. About half of China's approximately 15 million Catholics worship at underground churches, said Lionel Jensen, an associate professor at the University of Notre Dame who specializes in religion in China.
"In the end," Mr. Jensen said, "the numbers cannot tell us what is seen on the ground, that Catholic services are increasingly well attended, even packed, and that the Vatican is aware that the popularity of Catholicism is growing."
That is the case at an underground church outside the city of Shijiazhuang in Hebei Province, where the Rev. Dong Baolu leads a parish of about 2,000. Despite the growing number of Catholics in China, Father Dong said he did not anticipate a visit here by the pope anytime soon.
"There is no way to establish formal diplomacy now," he said in a telephone interview. "That is because a real Communist Party won't tolerate independent religion. Even if you're allowed to follow your faith, that's within its control. There is no way that it will allow you to follow foreign leadership."
He said it was a "good thing" that Pope Francis had been allowed to fly over China, but also questioned the terms of whatever agreement had been reached between the Vatican and the Chinese government to permit it.
"I think the deal itself is bad for those churches that are loyal and true and underground, because the Communist Party's policy hasn't changed," Father Dong said. "Religion is still under the leadership of the Communist Party."
Don't miss the stories
followIndiaVision News & Information
and let's be smart!