Free Syrian Army says no ceasefire for Geneva talks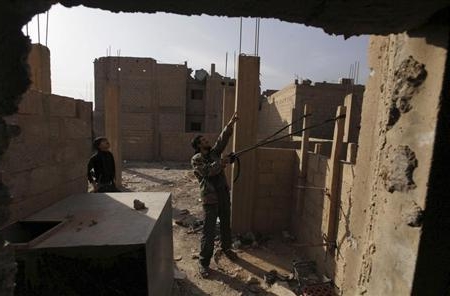 Free Syrian Army says no ceasefire for Geneva talks
The commander of the rebel Free Syrian Army (FSA) said on Tuesday his group would not join a planned peace conference in Switzerland in January and would pursue its fight to topple President Bashar al-Assad regardless.
General Salim Idriss's stance highlights how hard it will be for international mediators to get Syria's warring and divided parties to the negotiating table in Geneva.
Assad's government has said it will attend the Geneva talks but will accept no preconditions and will put any agreement to a referendum – a vote which opposition figures say will be rigged against them.
The "Geneva 2" conference will convene on January 22, the United Nations said on Monday, with the stated goal of setting up a mutually acceptable transitional government to end a 2-1/2-year-old conflict that has cost well over 100,000 lives.
"Conditions are not suitable for running the Geneva 2 talks at the given date and we, as a military and revolutionary force, will not participate in the conference," Idriss told the pan-Arab news channel Al Jazeera.
"We will not stop combat at all during the Geneva conference or after it, and what concerns us is getting needed weapons for our fighters," he said.
The Western-backed FSA is an umbrella group encompassing many rebel units, but opposition sources and analysts say its influence has already been eroded by Islamist groups which are forging alliances among the most powerful rebel forces.
The opposition has been badly divided over Geneva 2. The Syrian National Coalition, a mainly exile political grouping which is also supported by the West, has announced conditional readiness to join the talks, despite strong objections from fighters and activists inside Syria.
On Tuesday, the coalition's spokesman, Khalid Saleh, told Al Jazeera it had still made no firm decision to go to Geneva, only "an expression of readiness to attend".
Opposition figures in Istanbul said some coalition members were in talks in Geneva with the U.N. envoy for Syria, Lakhdar Brahimi, as well with officials from the United States and Russia, the main architects of the planned peace conference.
One source said political opposition groups would meet again in mid-December to vote on whether or not to attend the talks.
ASSAD'S ROLE DISPUTED
Rebels in Syria are wary of the conference, which they fear will not ensure Assad's exit from power.
Islamist forces and rebel units linked to al Qaeda have already rejected Geneva 2, and say anyone who participates in a deal that does not remove Assad will be deemed a traitor.
Peaceful anti-Assad protests began in March 2011. Their violent suppression ignited a conflict that has driven over a third of Syria's people from their homes and split the country among ethnic and sectarian factions backed by competing foreign powers.
After so much blood has been spilled, many on either side of Syria's divide see only outright victory guaranteeing their own survival. But neither side has delivered a knockout blow, giving mediators a chance to argue for compromise.
The deep engagement of neighboring powers in the conflict has inflamed Sunni-Shi'ite tensions that risk prolonging the violence and spreading it well beyond Syria's borders.
Most notably, Shi'ite Iran has thrown its weight behind Assad and Sunni Saudi Arabia is backing the rebels.
It is unclear if Iran, which has just agreed a preliminary nuclear deal with world powers, will attend the Syria peace conference. Tehran has said it will come if invited, but it has yet to endorse the outcome of a 2012 Geneva conference which forms the basis for the January talks.
Don't miss the stories
followIndiaVision India News & Information
and let's be smart!