French Alps air disaster: Investigators seek clues into the Germanwings mystery day after crash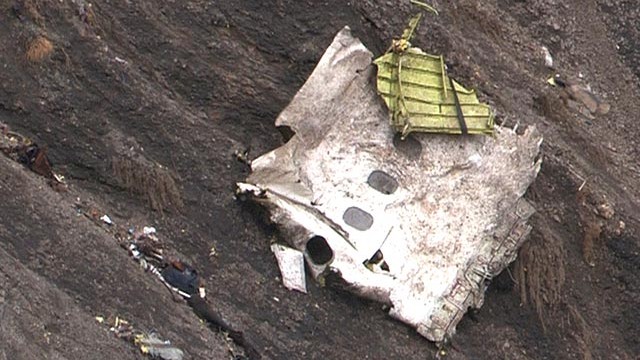 French investigators will sift through wreckage on Wednesday for clues into why a German Airbus ploughed into an Alpine mountainside, killing all 150 people on board including 16 schoolchildren returning from an exchange trip to Spain.
The A320 jet operated by Lufthansa's Germanwings budget airline was obliterated when it went down in a rugged area of ravines on Tuesday while flying over France en route to Duesseldorf from Barcelona.
No distress call was received from the aircraft, but France said one of the two "black box" flight recorders had been recovered from the site 2,000 metres (6,000 feet) above sea level.
A person familiar with the recovery effort told Reuters that this was the cockpit voice recorder. Investigators will also need the other black box which records flight data, information that is essential for probing air accidents.
Civil aviation investigators from France's Bureau d'Enquetes et d'Analyses (BEA) are expected to hold a news conference on Wednesday afternoon.
In Washington, the White House said the crash did not appear to have been caused by a terrorist attack. Lufthansa said it was working on the assumption that the tragedy had been an accident, adding that any other theory would be speculation.
French President Francois Hollande will visit the area about 100 km (65 miles) north of the Riviera city of Nice on Wednesday along with German Chancellor Angela Merkel and Spanish Prime Minister Mariano Rajoy.
Germanwings believed 67 Germans had been on the flight and Spain's deputy prime minister said 45 passengers had Spanish names. One Belgian was also aboard. Australian Foreign Minister Julie Bishop confirmed two Australian citizens had died, a mother and her adult son from the state of Victoria.
British Foreign Secretary Philip Hammond said in a statement that it was likely some British nationals were on board the flight. He said checks were still being made on passenger information.Also among the victims were 16 teenagers and two teachers from the Joseph-Koenig-Gymnasium high school in the town of Haltern am See in northwest Germany. They were on their way home after a week-long Spanish exchange programme near Barcelona. It was a reciprocal visit after 12 Spanish students spent a week at their school in December.
Students were sent home from the school but many returned in the afternoon with candles in their hands and tears in their eyes to mourn.
Barcelona's Liceu opera house said on Twitter that two singers, Kazakhstan-born Oleg Bryjak and German Maria Radner, had died while returning to Duesseldorf after performing in Wagner's Siegfried at the theatre.
Smouldering Wreckagae
Aerial photographs showed smouldering wreckage and a piece of the fuselage with six windows strewn across the steep mountainside.
"We saw an aircraft that had literally been ripped apart, the bodies are in a state of destruction, there is not one intact piece of wing or fuselage," Brice Robin, prosecutor for the city of Marseille, told Reuters after flying over the wreckage in a helicopter.
Germanwings said the plane started descending one minute after reaching its cruising height and continued losing altitude for eight minutes.
"The aircraft's contact with French radar, French air traffic controllers, ended at 10.53 am at an altitude of about 6,000 feet. The plane then crashed," Germanwings' Managing Director Thomas Winkelmann told a news conference.
Winkelmann later said some Germanwings crew members had declared themselves unfit to fly, leading to some cancellations. "We understand that on a day like today, they wouldn't feel able to fly," he told German broadcaster ZDF.
Don't miss the stories
followIndiaVision India News & Information
and let's be smart!