Gaza death toll crosses 100, Israel to counter rockets with full power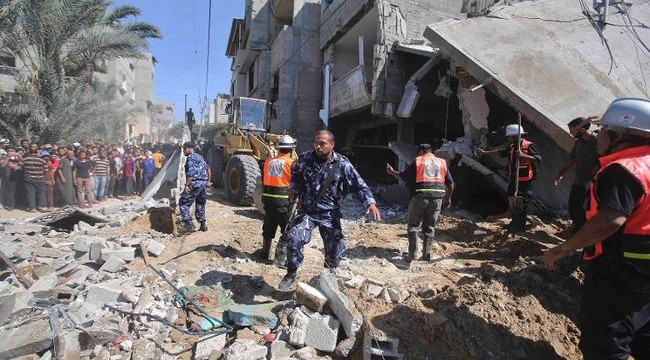 An airstrike outside a family home early on Saturday pushed the Palestinian death toll past 100 in four days of cross-border fighting as Israel showed no sign of pausing despite international pressure to negotiate a ceasefire with the militants.
Asked if Israel might move from the mostly aerial attacks of the past four days into a ground war in Gaza to stop militant rocket fire, Prime Minister Benjamin Netanyahu replied, "We are weighing all possibilities and preparing for all possibilities."
"No international pressure will prevent us from acting with all power," he told reporters in Tel Aviv a day after a telephone conversation with US President Barack Obama about the worst flare-up in Israeli-Palestinian violence in almost two years.
On Friday Washington affirmed Israel's right to defend itself in a statement from the Pentagon. But defence secretary Chuck Hagel told Israeli defence minister Moshe Ya'alon he was concerned "about the risk of further escalation and emphasized the need for all sides to do everything they can to protect civilian lives and restore calm."
An Israeli airstrike killed five youths and wounded 15 people outside a family home in the Jabalya refugee camp in the northern Gaza Strip early on Saturday, witnesses and medical officials told Reuters.
A rocket seriously wounded one person and injured another seven Israelis when a fuel tanker was hit at a service station in Ashdod, 30 km (20 miles) north of Gaza. Palestinian militants warned international airlines they would fire rockets at Tel Aviv's main airport.
Medical officials in Gaza said at least 75 civilians, including 23 children, were among 106 people killed in the aerial bombardments that Israel began on Tuesday. They included 12 killed on Friday.
Among the dead was a man described by Palestinian officials as a doctor and pharmacist. A 4-year-old boy was killed when a neighbour's house was targeted by an Israeli raid, a Palestinian hospital official said. Two other people aged 70 and 80 were killed in a missile strike elsewhere in Gaza, the Palestinian heath ministry said.
Palestinian President Mahmoud Abbas urged the United Nations Security Council to order an immediate truce.
But Israel said it was determined to end cross-border rocket attacks that intensified last month after its forces arrested hundreds of activists from the Islamist Hamas movement in the occupied West Bank following the abduction there of three Jewish teenagers who were later found killed. A Palestinian youth was killed in Jerusalem in a suspected Israeli revenge attack.
Israel's campaign "will continue until we are certain that quiet returns to Israeli citizens," Netanyahu said. Israel had attacked more than 1,000 targets in Gaza and there were "more to go."
Israel's military commander, Lieutenant-General Benny Gantz, said his forces were ready to act as needed – an indication of a readiness to send in tanks and other ground troops, as Israel last did for two weeks in early 2009.
"We are in the midst of an assault and we are prepared to expand it as much as is required, to wherever is required, with whatever force will be required and for as long as will be required," Gantz told reporters.
Western-backed Abbas, who is based in the West Bank and agreed a power-sharing deal with Gaza's dominant Hamas in April after years of feuding, called for international help: "The Palestinian leadership urges the Security Council to quickly issue a clear condemnation of this Israeli aggression and impose a commitment of a mutual ceasefire immediately," he said.
Don't miss the stories
followIndiaVision News & Information
and let's be smart!