Hong Kong Protesters March as Leader Urges 'Good Sense'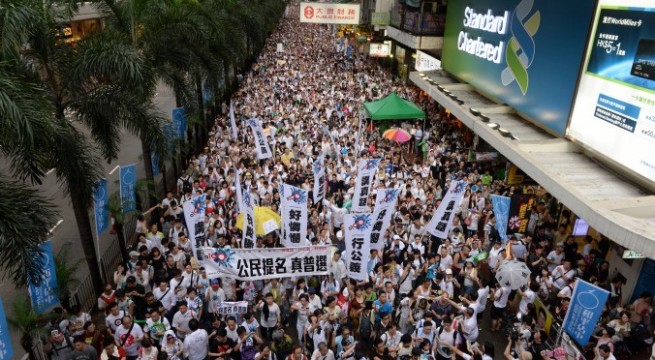 Pro-democracy activists staged a march yesterday demanding broader rights for Hong Kong's first leadership election in 2017, defying a call by the city's top official to back China on electoral reforms.
Demonstrators rallied against plans by China to vet candidates for the election, and promised more protests. About 48 percent of those who responded to a poll commissioned by the South China Morning Post said lawmakers should vote against the reforms, the newspaper said today.
Protesters and opposition lawmakers run the risk of China canceling the popular election with their actions, and people should be "pragmatic" about the pace of reforms, Chief Executive Leung Chun-ying said yesterday. China last month said candidates for the election should be vetted by a committee, which activists said is packed with legislators and business executives favoring Beijing.
"Politics is the art of the possible," Leung said in a "Letter to Hong Kong" aired on Radio Television Hong Kong yesterday morning. "I hope the good sense of Hong Kong people will prevail."
Leung has pledged to introduce the universal suffrage bill to the city's legislature early next year. To become law, it will require two-thirds of the 70-member body to support it, meaning its passage could be halted by the 27 opposition members.
Election Committee
If the proposal is rejected, Hong Kong will continue to have its leader picked by a 1,200-member election committee.
"Why do they think rejecting the present offer will get Hong Kong a better offer in five years' time?" Leung said in his speech.
The city is ready for democracy, even as Hong Kong faces a "big challenge" in passing the necessary legislation, he said, according to a government transcript of his remarks.
Occupy Central With Love and Peace, an activist group, has threatened to disrupt the financial district with a mass occupation to express dissatisfaction with China's ruling.
An estimated 4,000 people, wearing black clothes and yellow ribbons, joined the march yesterday, Occupy Central leader Chan Kin-man told supporters. Police estimated that 1,860 people took part.
Drum Beat
The marchers held on to nine 55-meter (180-foot) banners in a procession through the streets of the Causeway Bay shopping district mostly in silence, with Occupy leaders in the front, marching to the beat of a large drum.
"Our drum sounded solemnly beat by beat and many people said it was like a funeral bell," Chan told the rally. "We're not saying that democracy is dead, we are saying that our government's integrity has died."
Founding chairman of the Democratic Party Martin Lee also addressed the crowd. Lee and Chan urged support for the student class boycotts, planned for the week of September 22.
While the date of the Occupy Central mass sit-in wasn't mentioned, organizers referred to it at the end of the rally.
"Fight for Democracy! Never give up!" Chan said. "Everyone, see you in Central!"
Promises made by the Chinese government "have never been fulfilled and democracy in Hong Kong is stifled," Occupy Central said yesterday in a statement. The demonstrators included members of the Hong Kong Federation of Students, Justice and Peace Commission of the Hong Kong Catholic Diocese, Labour Party, and the Democratic Party, the group said.
Yellow Banners
Dozens of protesters today rode bicycles flying yellow banners supporting democracy through the city.
Tension in the city ratcheted up after the Chinese government issued a white paper June 10 saying Hong Kong's leader and judges must be patriots. The document prompted an angry reaction from pro-democracy parties, former officials and lawyers.
Uncontested elections for the chief executive position won't be allowed, and "we can expect keen competition," said Leung, whose current term ends in 2017. Nomination procedures will be discussed as part of a new round of public consultation that will start soon, he said.
Don't miss the stories
followIndiaVision News & Information
and let's be smart!