IAEA chief to have talks in Iran: Diplomatic sources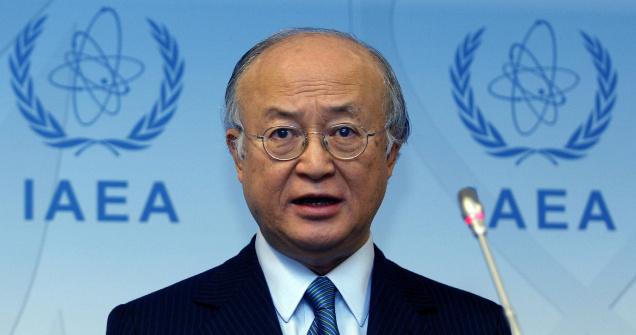 Make-or-break nuclear negotiations ramped up a gear Wednesday with the head of the UN nuclear watchdog set to fly to Iran for talks after the deadline to reach a deal was extended.EU foreign policy chief Federica Mogherini was also due to return to Vienna on Thursday along with French Foreign Minister Laurent Fabius, while his Chinese counterpart Wang Yi is also planning to joining this round of talks for the first time, a French diplomat said.
With a new deadline now set for July 7, different diplomatic sources confirmed to AFP that Yukiya Amano, the head of the International Atomic Energy Agency (IAEA), would leave for Tehran later in the day.
Teams of experts have been working virtually around the clock for weeks to try to hammer out a deal which would put a nuclear bomb out of Iran`s reach in return for lifting a labyrinth of biting EU, US and UN sanctions.
One sticking point has been ensuring access for IAEA inspectors to Iranian military sites to verify whether in the past or present Iran has sought to develop nuclear weapons.
Iranian leaders have vehemently denied such accusations, but have bristled at the notion of allowing unimpeded access to sensitive military sites, or IAEA interviews with its nuclear scientists.
In a sign of a possible breakthrough, Iranian media said Amano, who has been closely involved in this week`s negotiations between global powers and Iran in Vienna, would meet on Thursday in Tehran with President Hassan Rouhani and the chairman of Iran`s Supreme National Security Council, Ali Shamkhani.
"The goal of Yukiya Amano`s trip is to talk about past activities and receive Iran`s suggestions on how to resolve the differences," the Iranian news agency IRNA said, quoting a source close to the Iranian negotiating team.
Another Iranian news agency, ISNA, reported that Amano`s visit came at Iran`s request.
"When Iran did not accept the (agency to) interview nuclear scientists, the agency sought Iran`s suggested solutions and Iran will offer its solution in this trip," it said.
Under any deal, it will be up to the IAEA, which already keeps close tabs on Iran`s declared nuclear sites with between four and 10 inspectors on the ground on any given day, to verify that Iran really does reduce its capacities.
But the so-called P5+1 powers — Britain, China, France, Germany, Russia and the United States — also want the IAEA to have wider inspection rights to verify any suspicious activity that might indicate covert work on a nuclear bomb.US Secretary of State John Kerry and his Iranian counterpart Mohammad Javad Zarif were meanwhile also expected to hold new talks on Wednesday in Vienna, after they met Tuesday following Zarif`s whistle-stop trip back to Iran for consultations.
US President Barack Obama insisted Tuesday that a "strong, rigorous verification mechanism" for monitoring Iran`s nuclear sites was needed and warned Iran`s leaders he would walk away from a "bad deal."
Obama said his instructions to negotiators in Vienna had been "extremely clear" — that a deal must block Iran from getting a nuclear weapon.
"If we can`t provide assurances that the pathways for Iran obtaining a nuclear weapon are closed and if we can`t verify that, if the inspections regime, verifications regime, is inadequate, then we`re not going to get a deal."
Russian Foreign Minister Sergei Lavrov, who flew into Vienna on Tuesday, said after almost two years of trying, he still believed a deal to end the 13-year standoff was "within reach".
The talks are "progressing in a positive direction. There remain questions, mostly regarding procedural issues rather than technical," Lavrov told Russian television after talks with Kerry.
Contentious issues include the pace and timing of sanctions relief, the mechanism for their "snapback" if Tehran violates the deal, and Iran`s future development of newer, faster centrifuges.
Don't miss the stories
followIndiaVision India News & Information
and let's be smart!