India has to decide on trade: Kerry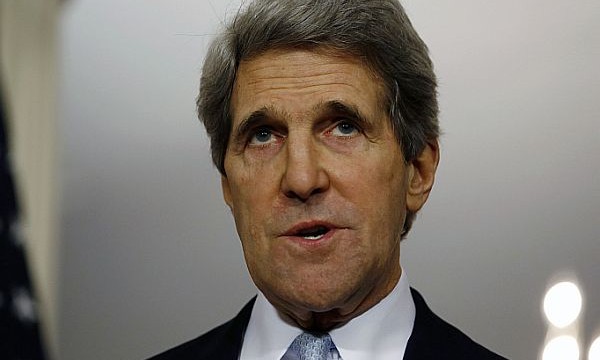 Kerry to join world powers in Geneva to help finalize Iran nuke deal
While India and the U.S. have one of the most important relationships internationally, "India has a decision to make about where it fits in the trading system," U.S. Secretary of State John Kerry said on Monday.
India's willingness to support a rules-based trading order and fulfil its obligations would help to welcome greater investment from the U.S. and from around the world, he said.
With a strong thrust on prospects for economic cooperation Secretary Kerry said, "If India's government delivers on its plans to support greater space for private initiative, if it creates greater openness for capital flows, if it limits subsidies that stifle competition, if it provides strong intellectual property rights, believe me, even more American companies may come to India."
Speaking at the Center for American Progress on 'The U.S. and India: A Shared Vision for 2020 and Beyond' Mr. Kerry said that the fact that Indian Prime Minister Modi put in place greater transparency and accountability during his time as Chief Minister of Gujarat "tells us he has already provided a model of how raising standards can actually increase economic growth."
Mr. Modi drew upon the energy of the youth during his campaign, the Secretary noted, and his historic mandate to deliver economic growth was captured in the motto sab ka saath sab ka vikas.
Ambitious trade targets achievable
Under a growing U.S.-India partnership the "ambitious target" of reaching a bilateral trade level of $500 billion per year could be achieved, Mr. Kerry said.
In that regard he noted the economic contributions of the Ford motor company, which he said was doubling production from plants in Gujarat and Chennai and investing $1 billion to make India a global hub for exports.
Similarly, Mr. Kerry noted, Tata was creating jobs for Americans by expanding auto design and sales in the U.S., adding to its 24,000 employees already in this country, to the nearly to 100,000 jobs that Indian investment has created here.
Strategic-economic connectivity
"Prime Minister Modi understands the opportunities that regional connectivity provides," Mr. Kerry said in this regard, highlighting the former's invitation of SAARC leaders for his swearing-in ceremony as an important step towards India playing a leadership role in the region.
Specifically underscoring trade with Bangladesh, Burma and through the Indo-Pacific Economic Corridor, strategic progress with Pakistan and Afghanistan and India's role in providing maritime security in the Strait of Malacca and off the Horn of Africa, Mr. Kerry promised that U.S. Defence Secretary Chuck Hagel would explore how to deepen ties with India in this context.
Counterterrorism a challenge
On counterterrorism, "There is obviously room for us to be able to do more," the Secretary however noted, despite the U.S. and India continuing a "very close partnership" that began after the Mumbai attacks, and was followed by training for first responders to help protect citizens.
Although terrorist attacks took 400 Indian lives in 2013 alone, Mr. Kerry said, the challenge could be met by addressing the conditions that allowed extremists to thrive in the first place.
'Saffron revolution'
Finally touching upon climate change, clean energy and nuclear power, Mr. Kerry said that Mr. Modi was "absolutely right," in calling for a Saffron Revolution, because "the saffron colour represents energy," and that could herald the beginning of a "new constructive chapter in the U.S.-India climate change relationship."
The Secretary flagged Mr. Modi's commitment to electrify every home in India by 2019, noting however that this goal would be aided by both the $1 billion in bilateral financing for renewable energy projects, and the hope for clean power that U.S. companies could provide by building on the U.S.-India Civil Nuclear Agreement.
Don't miss the stories
followIndiaVision News & Information
and let's be smart!