Iran nuclear deal: Deadline day brings talk of extension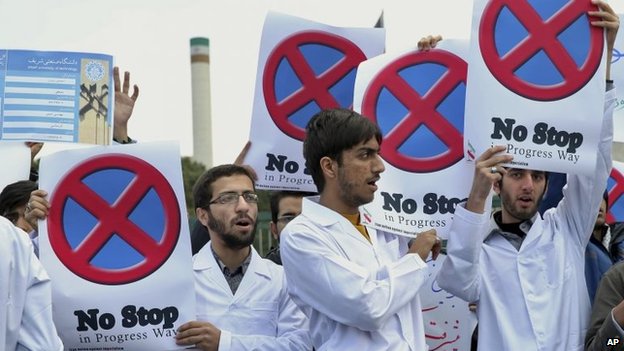 Negotiators in Vienna, Austria, are set to make a final push to try to reach a deal on Iran's nuclear programme ahead of a 23:00 GMT deadline.
They said earlier "serious gaps" remained, suggesting that an extension could be agreed instead.
World powers – the US, UK, Russia, China, France plus Germany – want Iran to curb its nuclear programme in return for the lifting of UN sanctions.
Tehran says it is not seeking nuclear weapons, but wants atomic energy.
"At the moment, we are focused on the last push… big push tomorrow morning (Monday) to try and get this across the line," British Foreign Secretary Philip Hammond said."Of course, if we're not able to do that, we will then look at where we're going from there."
A senior US state department official told reporters: "Our focus remains on taking steps forward toward an agreement, but it is only natural that just over 24 hours from the deadline we are discussing a range of options… an extension is one of those options."
The delegates could also set out a framework of a deal that would be finalised later.
Iranian President Hassan Rouhani said that "if the West does not make excessive demands, an agreement is within reach", according to Iran's Resalat newspaper.
Chinese Foreign Minister Wang Yi was expected to arrive in Vienna early on Monday, meaning the foreign ministers of all of the so-called P5+1 group would be in attendance.
Intense negotiation
The nub of the proposed agreement is the rate at which the sanctions against Iran would be lifted if the Iranians agreed to highly specific limits on the amount of uranium they could enrich, the BBC's Middle East editor Jeremy Bowen in Vienna reports.
Reporters with TV cameras outside Vienna's Palais Coburg where nuclear talks take place. Photo: 22 November 2014Enriched uranium can be used to make a nuclear bomb.
Our editor says that last minute surprises will be possible at all times in what is an intense negotiation, and that some kind of agreement that allows more talks is one possibility if – as seems likely – a comprehensive deal cannot be made.
He adds that the breakthrough in Geneva a year ago, which led to these negotiations, de-escalated a crisis that seemed to be heading for war, and a failure in Vienna might revive all those dangers.
Under that Geneva Accord, Iran was to curb some of its uranium enrichment in return for sanctions relief.However, the two sides failed to reach a lasting deal by July, as initially agreed, and extended the deadline until 24 November.
Iranian sources told BBC Persian's Kasra Naji that a "political agreement" could be reached before the deadline.
US President Barack Obama told broadcaster ABC on Sunday that a deal could "perhaps begin a long process in which the relationship… between Iran and the world, and the region, begins to change".
line
Analysis: Jeremy Bowen, BBC Middle East editor, Vienna
Success would do much to lift Iran's isolation – which would change the strategic balance in the Middle East. That intrigues some Western diplomats. It horrifies Saudi Arabia and Israel.
A year ago all sides in the talks saw an opportunity to deal with an issue that could potentially cause another catastrophic war. That will make them very reluctant to leave Vienna empty-handed – even if that means they will have to do more work on the details next year.
Time is limited though. Hardliners in Tehran and Washington DC will try to sabotage any agreement. Both see no reason to dilute their mutual suspicion.
line
However, he acknowledged that "significant" gaps between the two sides remained, and that President Rouhani had "to deal with his politics at home".
"He's not the ultimate decider inside of Iran, the Supreme Leader [Ayatollah Ali Khamenei] is."
Earlier on Sunday, in Tehran, officials approved a rare protest by hardliners who criticised government negotiators. The demonstrators accused President Rouhani of giving in to Western pressure.
Don't miss the stories
followIndiaVision India News & Information
and let's be smart!