ISIS poses major threat to global security: Angela Merkel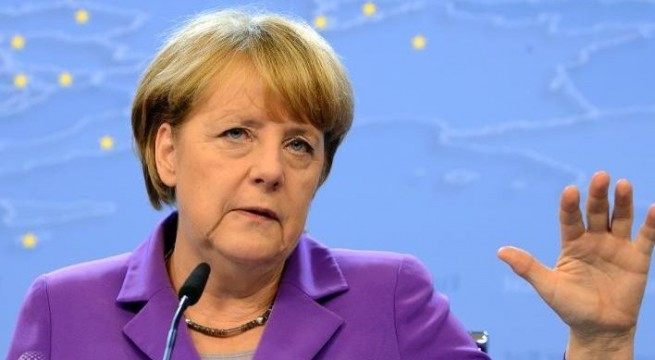 Merkel extremely dismayed over Schumacher's fall
Berlin: Warning that Islamic State in Iraq and Syria posed a major threat to global security, German Chancellor Angela Merkel has called upon the nations around the world to join the fight against the militant group.
"To stand up against the IS terror is in the interest of the entire world, also in Germany's interest, as the jihadists are threatening our security as well," she said at a commemoration ceremony held in Hannover yesterday to mark the 24th anniversary of the nation's reunification.
The ceremony was attended by President Joachim Gauck, his predecessor Christian Wulff, President of the Bundestag Norbert Lammert, former chancellor Gerhard Schroeder, several cabinet ministers and representative of the state governments.
The international community of states must stand together because "we are witnessing the barbaric advance of a terrorist organisation," which holds an "incomprehensible force of attraction for some young people in Europe and in other regions of the free world," Merkel told the audience.
Together with its partners and allies, Germany has taken its share of responsibility to tackle the militant group by supplying weapons and other military equipment to the Kurdish Peshmerga forces battling the jihadists in northern Iraq and by training them in handling the weapons.
The chancellor said some nations may be tempted to avoid joining the fight against the IS militants, hoping that the problem will be solved by itself.
But that is not going to happen. Fighting the jihadists is not a responsibility of the US or the Arab states alone, the entire world is called upon to join the efforts to eliminate the threat posed by IS, she said.
Merkel paid tributes to the people of the former East Germany, who contributed to the fall of the Berlin Wall through their "peaceful revolution" and thereby paved the way for the reunification of the divided Germany a year later.
"Without the courage of the people of the GDR (German Democratic Republic) and their pressure for reforms, the Berlin Wall could not have been brought down," Merkel said.
Merkel also deplored the recent assault on asylum-seekers by security guards at several refugee homes in the state of North Rhine Westphalia and warned that such incidents will not be tolerated.
Don't miss the stories
followIndiaVision News & Information
and let's be smart!