Israel, Palestinians Trade Blame in Breaking Truce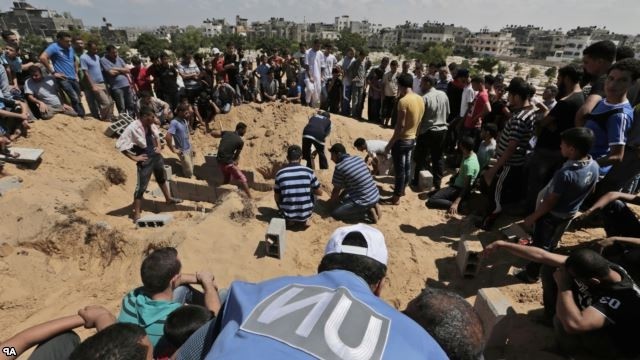 Israel and the Palestinians each accused the other of breaking the fragile seven-hour cease-fire early Monday that was intended to allow refugees a chance to go home or buy supplies.
Palestinians said Israel had bombed a refugee camp in Gaza City, killing an 8-year-old girl and wounding 29 other people, while Israel said at least four rockets had been fired at its territory from Gaza.
Officials said the strike in the Shati refugee camp happened Monday, just minutes into an Israeli-declared temporary truce.
The Israeli military said it is looking into the report of an attack on the camp, while saying there were no casualties or damage caused by the rockets fired into Israel.
Cease-fire discussions
Meanwhile, Palestinian groups, including representatives from Hamas and Islamic Jihad, held their first formal meeting in Cairo on Monday with Egyptian mediators hoping to pave the way towards a durable cease-fire agreement with Israel.
It was not clear how far the talks would progress, however, after Israel declined to send its envoys as scheduled.
Declaring a truce early Monday, an Israeli defense official said the cease-fire, from 10 a.m. to 5 p.m. (0700 to 1400 GMT), would apply everywhere but areas of the southern town of Rafah where ground forces have intensified assaults after three soldiers died in a Hamas ambush there on Friday.
While there were reports of some fighting, some residents were taking advantage of a lull in fighting to go to their homes to try to find personal belongings and do some shopping, VOA's Scott Bobb said.
Just hours before the truce was scheduled to start, however, an Israeli airstrike killed a militant Palestinian leader. The Islamic Jihad group said its commander in the northern part of the Gaza Strip, Danyal Mansour, died when the strike hit his home.
Attack in Jerusalem
Later Monday morning, a Palestinian used his heavy construction vehicle to run down and kill an Israeli and overturn a bus on a main Jerusalem street on Monday in attacks that ended when policemen shot him dead, police said.
There were no passengers on the bus, in an ultra-Orthodox Jewish neighborhood of the city. Surveillance video broadcast on Israeli television showed the yellow excavator's mechanical arm tearing into the side of the bus as it lay on the sidewalk.
Police identified the driver of the digger as a Palestinian from East Jerusalem and described the incident as a terrorist attack.
Israel positioned tanks near the Gaza border Monday before the cease-fire went into effect.
Hamas is skeptical of the truce announcement, and urged Palestinians in Gaza "to take caution."
Israel is winding down its offensive in the absence of a mediated disengagement deal with Hamas. It said the army has completed the main objective of the ground assault, the destruction of cross-border infiltration tunnels from Gaza.
The military, which began this operation on July 8, at first focused on areas and neighborhoods in the north. Recent attention, and airstrikes, have focused on southern Gaza and Rafah, where the Israeli military found a far more extensive network of tunnels than previously thought, the VOA's Bobb said.
The military has found and destroyed at least 30 tunnels so far.
Britain looks at arms contracts
Britain is reviewing all arms export licenses to Israel in response to the Jewish state's escalating conflict with Hamas in Gaza, a government spokeswoman said on Monday.
"We are currently reviewing all export licenses to Israel to confirm that we think they are appropriate," a spokeswoman for Prime Minister David Cameron told reporters. The decision to conduct the review was taken last week, she said.
According to a report by a British parliamentary committee last month, outstanding government-approved contracts for export of dual use or military goods to Israel are worth more than 7.8 billion pounds ($13.12 billion). These include contracts to supply body armor, drone components, and missile parts.
Strike on shelter
On Sunday, an Israeli airstrike in the southern Gaza town of Rafah killed at least 10 civilians who had sought shelter in a United Nations school.
The Israeli military later said it had targeted three suspected militants near the school, and said it was "reviewing the consequences" of the strike.
It is the third time in 10 days that a U.N. school has been the target of lethal explosions that have drawn international condemnation.
The latest attack also drew a strong rebuke from U.N. chief Ban Ki-moon, who called it "a moral outrage and a criminal act." The U.S. State Department called it "appalling."
Prime Minister Benjamin Netanyahu's office said Hamas had turned U.N. facilities into "terrorist hot spots." The main U.N. agency in Gaza, UNRWA, said it has found rockets in three of its schools.
Palestinian officials said Israeli attacks on Gaza have killed 1,804 Palestinians, most of them civilians. More than 8,000 have been wounded.
Israel said 64 of its soldiers and three civilians have been killed.
Cease-fire efforts
Egyptian mediation for a cease-fire, supported by the United States and the United Nations and also involving Qatar, Turkey and Western-backed Palestinian President Mahmoud Abbas, has been complicated by the dramatically divergent terms set by Israel and Hamas.
Israel has said Gaza must be stripped of tunnels and rocket stocks. Hamas rules this out, and demands an easing of the crippling Gaza blockade enforced by both Israel and Egypt, which consider the Palestinian Islamists a security threat.
In Cairo on Sunday, Palestinian delegates said they also wanted Israel to withdraw from Gaza, facilitate reconstruction of the battered territory and release Palestinian prisoners.
The Israelis, however, have shown little interest in resuming negotiations after blaming Hamas for violating Friday's truce with the Rafah ambush – an accusation echoed by the United States and the United Nations, though disputed by Hamas.
Don't miss the stories
followIndiaVision News & Information
and let's be smart!