Israel PM slams beheading of US journo, says ISIS is like Hamas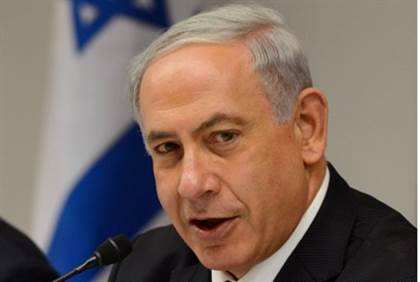 Israeli PM Benjamin Netanyahu has likened the Hamas to the barbaric Sunni extremists from Iraq and Syria – the ISIS, calling them the branches of the same tree.
In a statement issued yesterday evening, Netanyahu said that the entire world was shocked by t he beheading of a US journalist by the ISIS, and that Israel too was facing similar savagery at the hands of Hamas.
"Hamas is like ISIS, ISIS is like Hamas… they are the branches of the same tree.. entire world is shocked by the beheading of a US journalist… we face similar savagery… by those (Hamas) who want to rocket to cities, conduct mass killings, murder children, teenager, and use their own people as human shields they are enemies of all civilised countries," said Netanyahu. Justifying the killing of two Hamas commanders, the Israeli Defence Forces said, they were high-ranking Hamas commanders responsible for major terror attacks against Israelis.
The IDF tweeted that while Abu Shamala, commander of Hamas forces in S Gaza, was directly involved in dozens of terror attacks, including the murders of IDF soldiers; Raed Attar played a major role in tunnel infiltrations, terror attacks that killed Israelis, and the kidnapping of SFC Gilad Shalit.
After a strike failed to kill Hamas military chief, Israel on Thursday killed three top Hamas commanders namely, Mohammed Abu Shamala, Mohammed Barhoum and Raed al-Attar, who died in the air strike near the southern town of Rafah.
As the Israel-Gaza war resumed on Tuesday after a 10-day lull, the cross-border fire began, with Israel pummelling Hamas targets in Gaza and as the IDF said, over 213 rockets were fired at Israel by Hamas so far.
After a 10-day period of quiet, heavy fighting resumed between Israel and Hamas resulting in more than 20 casualties on Wednesday. More than 2100 Palestinians have died in the Operation Protective Edge that was launched by Israel on July 8 to halt Hamas rockets. Israel recalled its negotiators from Cairo after Gaza violated the ceasefire by firing three rockets towards Israel.
Egypt, which has been sincerely trying to broker a ceasefire between Israel and Hamas, today expressed its "profound regret at the breach of the ceasefire in Gaza" and urged both the warring sides to resume negotiations.
Don't miss the stories
followIndiaVision News & Information
and let's be smart!