Israel Strikes Back Against Fire From Gaza, North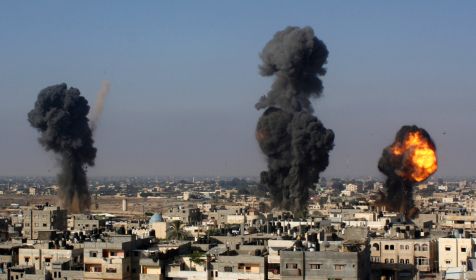 Israel's military responded to fire from the Gaza Strip, Syria and Lebanon and shot down a Palestinian drone that reached the southern city of Ashdod as its air offensive against Gaza militants entered a seventh day.
Israel targeted more than 40 "terror sites" in the Hamas-controlled Palestinian enclave overnight while at least 20 rockets were fired into Israel today, the army said in an e-mailed statement.
"The heavier the blow we give from the air the easier it will be to carry out a ground operation, if that proves necessary," Israeli Deputy Foreign Minister Zeev Elkin said today on Israel Radio. The military spokesman's office said it didn't have information on whether the drone sent from Gaza carried explosives.About 170 Palestinians, including dozens of children and other civilians, have been killed since Israel stepped up its air raids on Gaza a week ago in response to intensified rocket fire, according to Gaza's Health Ministry. Yesterday, the Palestinian Authority appealed to the United Nations for international protection.
While Israeli homes and vehicles have been struck by rockets, a missile defense system has intercepted 200 headed for built-up areas. A foreign tourist died of a heart attack in Jerusalem during an air raid alarm, rescue services said.Hamas-controlled Gaza has become a regular battleground for Israel and Palestinians since the Israelis evacuated the territory in 2005 after a 38-year occupation. Hamas launches rockets from the strip against Israel, which together with Egypt sharply restricts the movement of people and goods to and from the enclave. Two major Israeli air and ground offensives against Hamas's military capabilities since 2009 have only temporarily quashed the rocket fire. Amid the rocket barrage from Gaza, at least one missile was fired from Syria and landed in the Israeli-occupied Golan Heights, causing a blaze, the army said. After midnight, several rockets were fired from Lebanon at northern Israel, and one hit an open area, the military said in a text message. No injuries were reported from either incident, and Israel responded to both with artillery fire, the message said.
Prime Minister Benjamin Netanyahu said at the weekly cabinet meeting yesterday that Israel will act "vigorously" in Gaza to restore quiet "for a long period while inflicting a significant blow on Hamas and the other terrorist organizations." The U.S. and European Union classify Hamas as a terrorist organization.
Don't miss the stories
followIndiaVision News & Information
and let's be smart!