Libya votes in poll hoping to end post-Gaddafi chaos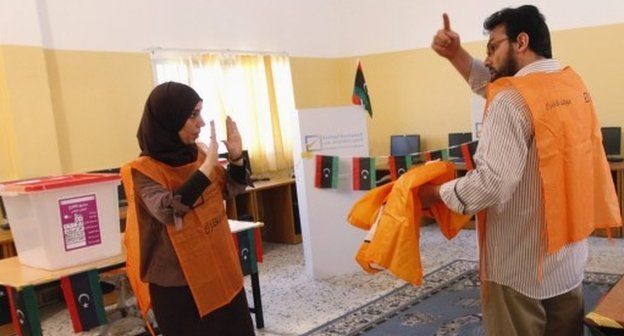 Tripoli: Libyans were voting Wednesday in a legislative election the authorities hope will end political turmoil and deadly violence that has gripped the country since the ouster of dictator Muammar Gaddafi.
Voters in Tripoli took advantage of a public holiday called for the election, trickling in to cast ballots in the capital, where security was tight around polling stations.
In the past few weeks, Libya has been rocked by a crisis that saw two rival cabinets jostling for power amid a showdown between Islamists and liberals, as violence raged in the east, where a rogue general is battling jihadists.
A patchwork of militias, including Islamic extremists, who helped to overthrow Gaddafi in the NATO-backed uprising of 2011 have been blamed for violence that has continued unabated since the end of the revolt.
"Every Libyan citizen is asking for comfort, safety and stability. Libyans want a well-built state like the rest of the developed world," said Mohammed Akila, a Tripoli resident.
The heavily armed rebels who ousted and killed Gaddafi have carved out their own fiefdoms in the deeply tribal country, some even seizing oil terminals and crippling crude exports from a sector key to government revenues.
There are hopes a new General National Congress, or parliament, will work to resolve the power struggle between liberals and Islamists that has stymied efforts to reform Libya and brought it to its knees.
The GNC, which has served as Libya's highest political authority since the 2011 revolt, was elected in July 2012, in the country's first ever free polls.
But it has been mired in controversy and accused of hogging power, with successive governments complaining its role as both executive and legislative authority has tied their hands in taming militias.
The crisis came to a head in February when the assembly, whose term had been due to expire, decided to prolong its mandate until December.
That sparked street protests and forced lawmakers to announce the election.
Almost 3.5 million Libyans are eligible to vote but only 1.5 million have registered, a far cry from the more than 2.7 million who registered two years ago.
Voters are choosing from among 1,628 candidates, with 32 seats in the 200-strong GNC reserved for women and would-be MPs banned from belonging to any political party. The UN Security Council has expressed hopes that the vote can be a stepping stone out of the chaos.
"These elections are an important step in Libya's transition towards stable democratic governance," it said this week.
For analyst Salem Soltan, none of the candidates standing in the elections "carry the political or social weight" needed in the assembly.
The new parliament risks "being run by shadow MPs, who will act according to instructions from warlords and militias," he said.
There are concerns that violence will mar polling day, particularly in the unrest-hit east, scene of a deadly 2012 attack by jihadists on the US consulate in Benghazi.
"Generally, we are optimistic, but there is a risk that the vote will be disrupted in some polling stations, namely in Benghazi and Derna," both Islamist strongholds, an electoral official told AFP.
Last week, the government instructed the interior ministry and the armed forces to come up with a security plan for the vote.
The task is not expected to be easy.
Authorities have been struggling to build a strong army and police force and now face defections from members of the security forces who have joined the ranks of rogue general Khalifa Haftar who is battling Islamists in Benghazi.
Haftar, accused by authorities of trying to mount a coup, said he would observe a truce during the vote, but the Islamists did not divulge their intentions.
A Western diplomat warned against electoral fraud and said the next challenge would be if Libyans rally around the vote.
"The challenge is not holding an election. The success of the vote will depend on whether all influential players in the country will accept its results."
Don't miss the stories
followIndiaVision News & Information
and let's be smart!