A look at Japan and two being held by Islamic State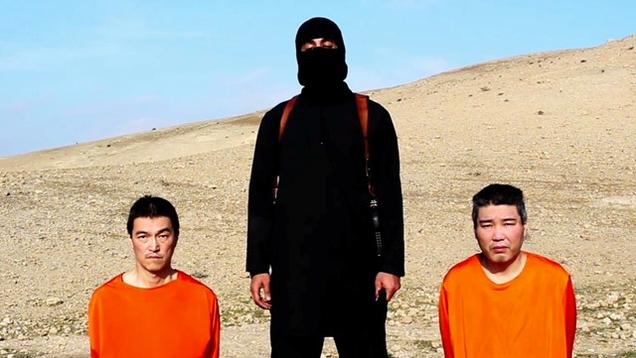 Two Japanese men have been threatened with death by the Islamic State (IS) if their government doesn't pay a huge ransom. A look at hostages and Japan, and its interests in the Middle East.
Who are the hostages?
Haruna Yukawa, 42, set up a company in January 2014 to offer security services in conflict areas, after running an online business selling military-related items. He went to Syria to train with militants, according to a post on his blog, and posted pictures on Facebook showing him in Iraq and Syria in July. One Facebook video shows him holding a Kalashnikov assault rifle with the caption – "Syria war in Aleppo 2014." In his blog and Facebook entries, Yukawa said he wanted to do something for the people suffering in war—torn Syria. He said in his blog in 2013 that he once tried to commit suicide as he was depressed by a series of troubles. A believer of spiritualism, Yukawa says he believes he was an actress in a previous life.
Kenji Goto, 47, set up his Independent Press video news company in 1996, covering mainly conflicts, refugees, poverty and children's education while travelling in war-torn countries. He has contributed reports to major Japanese media, including public broadcaster NHK and TV's Asahi. He has also worked with U.N. organizations, including UNICEF and UNHCR, and other non-profit groups, according to his profile on his company site. In an email sent to an Associated Press reporter in early October, Goto said he was in Syria for reporting. The last item posted on his Twitter feed was an Oct. 23 link to his program broadcast on NHK World.
Goto told NHK in an interview last year that Yukawa had sought advice from him about his security company. Japanese media reports say one reason Goto went to Syria was to rescue Yukawa.
What has happened to Japanese hostages in the past?
One has been killed; most have been released. It is unclear how many times Japan has paid ransom previously. The only confirmed case was in Kyrgyzstan in 1999.
In 2010, journalist Kosuke Tsuneoka was released after being held for five months in Afghanistan. The government said it paid no ransom.
In 2004, backpacker Shosei Koda, 24, was found decapitated, his body wrapped in an American flag, after followers of Jordanian militant Abu Musab al-Zarqawi demanded that Japan pull its troops out of Iraq. Koda's killing raised pressure on the government to leave Iraq.
Also in 2004, two aid workers and a freelance photojournalist who were held for a week in Iraq returned to a storm of criticism for going to a country that Japan had warned civilians to avoid. The kidnappers demanded Tokyo withdraw its troops from Iraq.
An official in Kyrgyzstan confirmed that a ransom was paid to Islamic militants who kidnapped four mining officials in 1999.
In 1997, Peruvian troops raided the Japanese ambassador's residence to rescue hostages held for 126 days by leftist rebels. A Japanese newspaper reported that the guerrillas had demanded millions of dollars in ransom from major Japanese companies, but the government denied that.
In 1990, dozens of Japanese hostages, along with many other foreigners, were held as human shields against attack in strategic military and industrial locations in Iraq. They were released after Japanese politicians secured their freedom.
What is Japan doing about the threat?
Japanese Prime Minister Shinzo Abe said the hostages' lives are of top priority, and vowed to save the two men.
Government spokesman Yoshihide Suga said that Tokyo remains committed to working for stability in the region and providing non-military, humanitarian aid. Mr. Abe and Israeli Prime Minister Benjamin Netanyahu agreed on Sunday during Mr. Abe's visit to Jerusalem to cooperate on counterterrorism.
Japan relies on the Middle East for most of the crude oil it needs to run the world's third-largest economy. Japan has been stepping up its efforts to build wider economic ties. Mr. Abe's Middle East mission included more than 100 government officials and presidents of Japanese companies.
Don't miss the stories
followIndiaVision India News & Information
and let's be smart!