M6 earthquake jolts Tokyo vicinity, injuring at least 16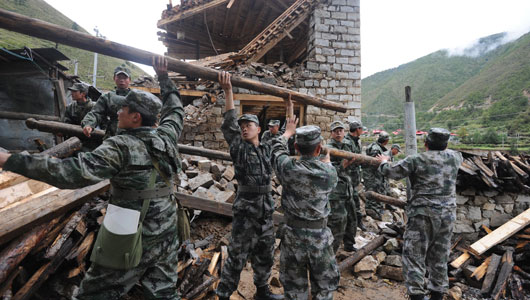 A strong earthquake with an estimated magnitude of 6.0 jolted central Tokyo on Monday morning.
The quake, which struck around 5:18 a.m., measured lower 5 on the Japanese seismic intensity scale of 7 in the Otemachi business district in central Tokyo's Chiyoda Ward, the Japan Meteorological Agency said. The magnitude was revised from 6.2 initially reported.
Tremors measuring at least one on the scale were felt widely in Japan from the Tohoku northeastern region to the Chugoku western region.
The quake was centered 162 km below the seafloor off the island of Izu Oshima, according to the agency. It caused no tsunami.
This was the strongest seismic intensity level measured in Chiyoda Ward since upper 5 was logged there from the 9.0-magnitude quake on March 11, 2011, off the northeastern Japan coast.
No major damage has been reported, but the Fire and Disaster Management Agency said that a total of 16 people were injured in the Tokyo area.
Yohei Hasegawa, director of the meteorological agency's Earthquake and Tsunami Observation Division, said at a news conference that Monday's temblor occurred in the Pacific plate and has little connection with an expected major quake directly beneath Tokyo or in the Sagami Trough south of Tokyo.
Aftershocks generally do not follow a quake of this depth, Hasegawa said, but he urged people to prepare for an aftershock of 3 or 4 on the Japanese scale just in case.
According to local authorities, a 66-year-old woman collapsed and suffered a broken bone in Kawasaki, Kanagawa Prefecture, south of Tokyo. Four were injured in Yokohama near Kawasaki, hit by such falling objects as a clock and a picture frame.
Eight were injured in Tokyo, one in Tokorozawa, Saitama Prefecture, north of Tokyo, and a total of two in Ichikawa and Kisarazu in Chiba Prefecture, east of Tokyo.
The secretariat of the Nuclear Regulation Authority said the quake caused no trouble at Japan Atomic Power Co.'s Tokai No. 2 nuclear power plant in Ibaraki Prefecture, north of Chiba, and Tokyo Electric Power Co.'s Kashiwazaki-Kariwa nuclear plant in Niigata Prefecture, central Japan. TEPCO's Fukushima No. 1 and No. 2 nuclear plants in Fukushima Prefecture, northeastern Japan, hit by the 2011 quake, had any damage from Monday's temblor either, according to the nuclear watchdog. Japan's all nuclear plants are now offline.
East Japan Railway Co. reported that bullet train services on the Joetsu and Nagano Shinkansen Lines had temporary delays of up to 15 minutes because the trains moved at a reduced speed between Omiya and Kumagaya Stations in Saitama Prefecture.
Services on its Tohoku, Akita and Yamagata Shinkansen Lines were not affected.
Don't miss the stories
followIndiaVision India News & Information
and let's be smart!