Maldives' Ex-President Convicted, Calls for Protests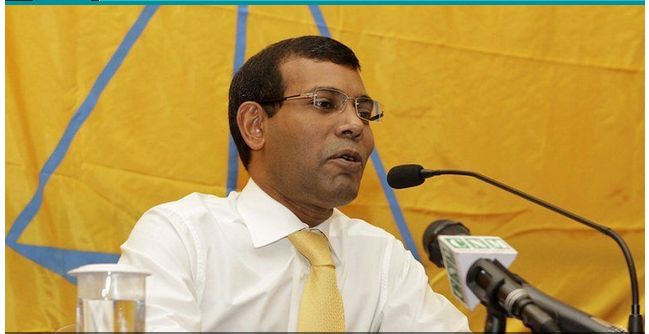 A former president of the Maldives called on his supporters to go out in the streets to protest his imprisonment after a quick and disputed trial that raised fears of more instability in the Indian Ocean nation.
A three-judge panel ruled Friday that Mohamed Nasheed, the country's first democratically elected president, issued an illegal order to detain a senior judge in 2012 while in office.
Nasheed has denied ordering the arrest. His supporters say the charges are aimed at eliminating him as a challenger against incumbent President Yameen Abdul Gayoom in the 2018 presidential election.
In anticipation of a ruling against him, Nasheed issued a public statement earlier Friday asking his supporters "to be courageous and confront the dictatorial powers," and change the government. He also asked them to "not be afraid of being arrested or facing a long sentence … and go out onto the streets in protest."
On Saturday, only a few supporters responded to his call amid heavy police presence in the streets of the capital, Male.
Nasheed's defense lawyers pulled out of the case in the middle of the trial, accusing the court of rushing the hearings and not allowing them enough time to prepare.
The United States said it was concerned "with the apparent lack of appropriate criminal procedure" and troubled by reports that the trial was conducted in a manner contrary to law.
State Department spokeswoman Jen Psaki called on the Maldives government to ensure Nasheed's safety and well-being in custody as well as restore confidence in democracy and rule of law. "We hope all Maldivians will express their views peacefully," she said.
Human rights group Amnesty International called the trial deeply flawed and "travesty of justice."
"Rather than responding to international calls to strengthen the impartiality of the judiciary, the government of the Maldives has proceeded with this sham trial for political reasons," Richard Bennett, the group's Asia-Pacific director, said in a statement.
The court rejected an objection from Nasheed's lawyers that two of the judges were not suitable to hear the case because they had testified against Nasheed at a police inquiry on the judge's arrest. The court also dismissed four witnesses produced by Nasheed's lawyers before they even testified, saying they were not strong enough witnesses.
Nasheed had earlier been charged with abuse of power but prosecutors last month filed more serious charges under the country's terrorism law. The trial was completed after 10 hearings over 23 days.
Nasheed's election as president in 2008 ended a 30-year autocratic rule by the current president's half-brother, Maumoon Abdul Gayoom. Nasheed's alleged order to arrest Criminal Court Chief Judge Abdulla Mohamed, whom he accused of political bias and corruption, led to weeks of protests.
Nasheed was forced to resign in February 2012, and lost a presidential election one year later to Yameen Abdul Gayoom.
Maldives is an Indian Ocean archipelago nation known for its luxury resort islands. The country's transition to democracy has been difficult, with institutions like the courts often being perceived as loyal to the Gayoom family.
Don't miss the stories
followIndiaVision India News & Information
and let's be smart!