Mexico Says Guerrero Evidence Shows Mass Student Murder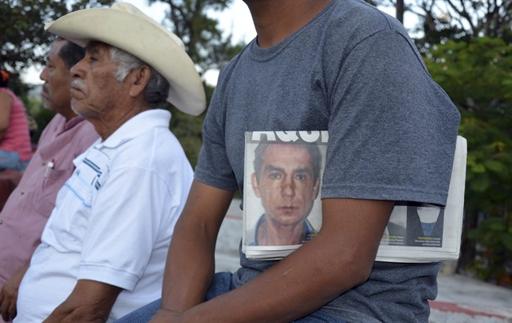 Forty-three college students kidnapped by police in southern Mexico in September were probably killed by a drug gang that tried to destroy all the evidence of the crime, according to investigators.
Criminal suspects rounded up in the probe said police in Iguala, Guerrero, less than three hours' drive from Mexico City, handed them more than 40 people who they had taken into custody, Mexican Attorney General Jesus Murillo Karam said in an hour-long news conference in the capital yesterday. Fifteen of the captives were already dead from asphyxiation, and the suspects confessed to executing the rest, he said.
Members of the Guerreros Unidos drug gang told authorities that they burned the victims' corpses in a landfill for at least 12 hours, along with their clothes and other belongings, throwing in diesel fuel, gasoline and tires to fan the flames, Murillo Karam said. They then placed their remains in garbage bags and dumped them in a river. DNA tests are still being conducted to provide conclusive proof of the victims' identities, Murillo Karam said.
"The testimonies and confessions that we've collected, combined with other investigations, very sadly point to the killing of a large number of people," Murillo Karam said during an hour-long news conference as he presented the suspects' videotaped confessions and photographs of human remains. "The high degree of degradation caused by the fire makes it difficult to extract the DNA to allow us to identify the remains."
Public Outrage
The investigation into the missing students has turned up at least nine mass graves and evidence of collusion between the drug cartel and local officials in Iguala, a city of more than 100,000 people where the students went missing Sept. 26. The case has captured global headlines and fueled concern that the federal government has lost control over areas of a country racked by an eight-year drug war.
Public outrage over the Iguala case is undercutting President Enrique Pena Nieto's efforts to focus attention on his economic agenda, including the end of the state's seven-decade oil monopoly. A drug war that Milenio newspaper estimates has left about 70,000 dead since 2006 has been brought back into the spotlight.
The former mayor of Iguala and his wife were captured in Mexico City on Nov. 4 after authorities alleged that they orchestrated the mass kidnapping. The town's city hall was torched a month later during protests over government inaction.
Seventy-four people have been arrested in the case, including Guerreros Unidos leaders and police from Iguala and the nearby town of Cocula, Murillo Karam said.
'No Credibility'
Parents of the students, who met with Murillo Karam earlier yesterday, said the results of the government's probe are unacceptable. In the absence of DNA confirmation of the victims' identities, the families continue to expect that they'll return alive, said Felipe de la Cruz, a representative of the students' parents from the school in Ayotzinapa, Guerrero.
"For us, there's no credibility as long as there's no reliable proof," de la Cruz told reporters after Murillo Karam's news conference yesterday.
While Pena Nieto or his cabinet ministers have addressed the search for the students on national TV on an almost daily basis, their comments have failed to placate the public.
Protestors have taken to the streets, organizing a 50,000-person march on Mexico City's Paseo de la Reforma Boulevard on Oct. 22, the same day Iguala's city hall went up in flames. They also occupied local government offices in the beachside city of Acapulco, which like Iguala is located in Guerrero.
'Worst Scenario'
Pena Nieto, who met parents of the students at the presidential residence of Los Pinos on Oct. 29, has yet to visit Iguala. With the students' families still dissatisfied with the government's investigation, protests over the disappearance are likely to continue, said Jorge Chabat, an analyst at the Center for Economic Research and Teaching, a Mexico City-based university.
"Not having definitive proof whether they're dead or alive, having this gray area, this is the worst scenario for the Pena Nieto government," Chabat said in a telephone interview. "This opens the door for political pressure and protests to continue."
Pena Nieto's Institutional Revolutionary Party should work with opposition parties to pass laws overhauling the judicial system and strengthening the rule of law, Alonso Cervera, Credit Suisse Group AG's chief Latin America economist, wrote yesterday in a report.
"This could include at a minimum the rethinking of the structure of police units as well as the adoption of safeguards to prevent criminals from running for public positions," Cervera said.
Murillo Karam said he'll announce changes to Mexico's justice system in coming days.
Mexico is "seeking a formula so that what should never have happened doesn't ever happen again," he said. "It's evident that many things must be changed" in the justice system.
Don't miss the stories
followIndiaVision India News & Information
and let's be smart!