MH370 may not be found on ocean surface: Tony Abbott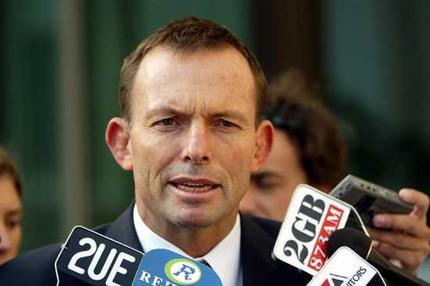 Australian Prime Minister Tony Abbott said on Monday it was now "highly unlikely" that any debris of the missing Malaysia Airlines plane will be found on the ocean surface, as he announced a more intensive underwater search expanding to new areas that may take up to eight months.
Describing the hunt as "probably the most difficult search in human history", Abbott said the search for the missing flight MH370 will be entering a new phase that will use private contractors and may cost about USD 60 million.
"I regret to say that thus far none of our efforts in the air, on the surface or under sea, have found any wreckage," he said in Canberra.
"By this stage, 52 days into the search, most material would have become water-logged and sunk," he said, adding that it is now "highly unlikely" that any debris will be located on the ocean surface.
"We are moving from the current phase to a phase which is focused on searching the ocean floor over a much larger area," Abbott said.
The new phase will focus on searching the ocean floor over a much larger area – 60,000 square kilometers, a process that will take about six to eight months.
"While the search will be moving to a new phase in coming weeks, it certainly is not ending," he said, adding Australia will continue to do what it can to find the missing plane.
The Beijing-bound Malaysia Airlines Boeing 777 flight MH370 – carrying 239 people, including five Indians, an Indo-Canadian and 154 Chinese nationals – had mysteriously vanished on March 8 after taking off from Kuala Lumpur.
The mystery of the missing plane continued to baffle aviation and security authorities who have so far not succeeded in tracking the aircraft despite deploying hi-tech radar and other gadgets.
Meanwhile, a remote-controlled mini-submarine deployed in the southern Indian Ocean to find the missing plane today launched its 16th mission with still no sign of wreckage.
Autonomous underwater vehicle Bluefin 21, a US Navy probe equipped with side-scan sonar which is scouring the ocean floor for traces of the plane, has completed mission 15 and was now on its next mission 16, the Perth-based Joint Agency Coordination Centre (JAAC) said in a statement.
Bluefin 21 has focused the search on an area in the southern Indian Ocean where four acoustic signals were detected that led authorities to believe that the plane's black box may be located there.\
Search coordinator Air Chief Marshal (retd.) Angus Houston said he is confident searchers are looking in the "right area", but admitted there could be months of searching ahead using new side scanner sonar equipment.
"It will take time," he added.
Don't miss the stories
followIndiaVision India News & Information
and let's be smart!