Nepal officials go to Everest to try to end crisis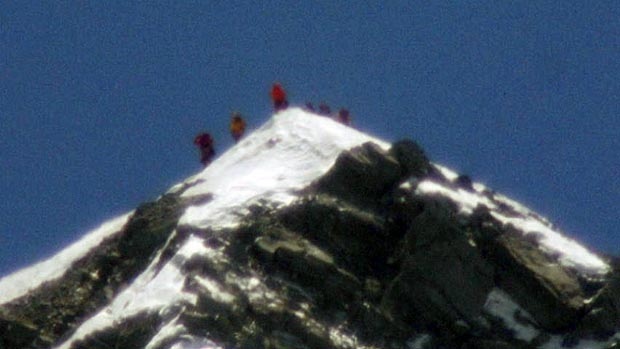 With the Mount Everest climbing season increasingly in doubt, Nepalese tourism officials traveled to base camp Thursday to negotiate with Sherpas who want to walk off the job after an avalanche killed 16 of the mountain guides.
Friday's avalanche – the worst ever recorded on Everest – has exposed an undercurrent of resentment by Sherpas over their pay, treatment and benefits.
"The main objective of this trip is to attempt to avert the shutdown of the mountaineering season and convince the Sherpas not to cancel their climb," said Keshav Pandey of the Trekking Agencies Association of Nepal, which was taking part in the meeting.
The negotiations will likely be tricky, however, because the Sherpas have no single leader and the motivations for their walkout range from honoring the dead to holding out for more substantial benefits.
While it was unclear just how many of the 400 or so Sherpas on the mountain had joined the walkout, at least three major expedition companies have already canceled their climbs.
Most attempts to reach Everest's summit are made in mid-May, when a brief window normally offers better weather. Without the help of the Sherpas, the tiny Himalayan community that has become famous for its high-altitude skills and endurance, it would be nearly impossible for climbers to scale Everest. Many climbers will have to forfeit most or all of the money they have spent to go up the mountain – $75,000 or more.
Sherpas are key guides and also haul tons of gear up the mountain.
Dave Hahn, who has scaled Everest more than a dozen times, said on Rainier Mountaineering's website that he met with other climbing team leaders and guides before deciding to halt the climb.
"Those meetings convinced us that the right course was to give up on Mount Everest for spring 2014," Hahn wrote from base camp, adding that the risks outweighed the possibility of success.
Nepal's government has been heavily criticised for not doing enough for the Sherpas in the wake of last week's disaster.
Immediately after the avalanche, the government said it would pay the families of each Sherpa who died 40,000 rupees, or about $415. But the Sherpas said they deserved far more – including more insurance money, more financial aid for the victims' families and new regulations to ensure climbers' rights.
Nepal's government appeared to agree Tuesday to some of the Sherpas' demands, such as setting up a relief fund for those who are killed or injured in climbing accidents, but the proposed funding fell far short of the demands.
– See more at: http://www.hindustantimes.com/world-news/nepal-officials-go-to-everest-to-try-to-end-crisis/article1-1211693.aspx#sthash.uPebYbmX.dpuf
Don't miss the stories
followIndiaVision India News & Information
and let's be smart!