New Ebola Patient Arrives in U.S. for Treatment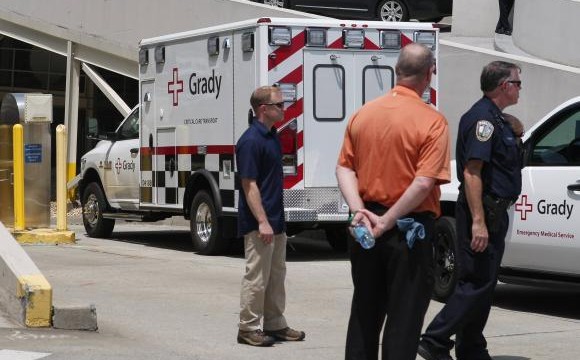 An American citizen who contracted Ebola in Sierra Leone has arrived for treatment at a US hospital where two American healthcare workers were previously treated, Emory University Hospital said Tuesday.
The identity and condition of the patient were not disclosed by the Atlanta, Georgia hospital.
However, a US State Department spokeswoman said the person is a US citizen.
"The State Department, in consultation with the Centers for Disease Control and Prevention (CDC), has facilitated the medical evacuation of a fourth US citizen who contracted Ebola in Sierra Leone," said spokeswoman Marie Harf.
A fourth patient infected with Ebola virus has arrived in the United States for treatment. The World Health Organization doctor arrived at Emory University Hospital in Atlanta and hasn't been named — a WHO spokesman says the agency wants to preserve the patient's privacy. He shuffled into the hospital from the ambulance that carried him from a nearby air force base. Emory's where the first two U.S. patients — Nancy Writebol and Dr. Kent Brantly — got treated. They were released and are healthy. Dr. Rick Sacra is being treated at the University of Nebraska Medical Center.
Other American improves
Another American doctor infected with Ebola arrived in Nebraska for treatment last week.
Doctors on Tuesday said that Dr. Rick Sacra's condition continues to improve.
"We are pleased with his progress," said Phil Smith, medical director at the Biocontainment Unit at the Nebraska Medical Center. "His lab values are improving and he's becoming more alert and interactive. We continue to be encouraged by what we're seeing up to this point."
Sacra's family said more of his personality has emerged each day. They speak with him on a regular basis through video conferencing.
The Ebola virus causes viral hemorrhagic fever, which refers to virus types that affect multiple organ systems in the body and are often accompanied by bleeding.
Humans contract Ebola through contact with the bodily fluids of infected animals or the bodily fluids of infected humans.
No vaccine or medicine has been proved to cure the disease, but the first human trial of an experimental Ebola vaccine began last
Sacra is improving, his doctors say. "He's kind of becoming his normal self," said Dr. Angela Hewlett, associate medical director of the biocontainment unit in Nebraska. "Family members continue to speak with Dr. Sacra on a regular basis via video conference and that's a big help for both the patient and his family." WHO says more than 4,200 people have been infected in this epidemic and more than 2,200 have died.
Don't miss the stories
followIndiaVision News & Information
and let's be smart!