Obama Lays Out Plan to Fight Islamic State Militants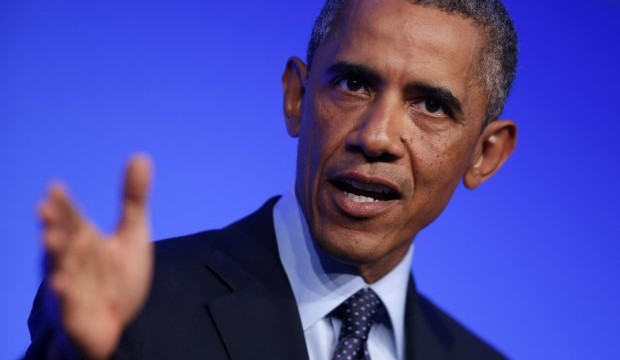 WASHINGTON—President Barack Obama authorized the start of U.S. airstrikes in Syria and expanded a monthlong bombing campaign in Iraq to "degrade and ultimately destroy" Islamic militants who recently beheaded two Americans.
The decisions, outlined Wednesday in a prime-time address to the nation on the eve of the 13th anniversary of the Sept. 11 terror attacks, considerably deepen U.S. military involvement in the Middle East. They also mark an acknowledgment by Mr. Obama that the intensity of the threat from the militant group Islamic State requires the type of long-term, open-ended conflict he has resisted since taking office—and which he campaigned for the White House saying he would avoid.
In asking Americans to support another military incursion in the Middle East, Mr. Obama said his strategy to combat Islamic State, also called ISIS and ISIL, would be bolstered by a coalition of Arab and European nations. His plan builds on his authorization in August of airstrikes in Iraq to protect American personnel threatened by Islamic State and to provide humanitarian assistance to besieged Iraqis.
Mr. Obama said the U.S. goal now is to help Iraqis reclaim large swaths of territory the group has rapidly overtaken in recent months since spilling over from its stronghold in neighboring Syria. His speech paves the way for the first U.S. strikes at the group's bases and havens in Syria.
"America will lead a broad coalition to roll back this terrorist threat," Mr. Obama said in remarks from the White House. "I will not hesitate to take action against ISIL in Syria, as well as Iraq. This is a core principle of my presidency: If you threaten America, you will find no safe haven."The president gave no timetable for the new, U.S.-led fight against what he described as "a terrorist organization" with members "unique in their brutality."
In addition to launching airstrikes against the militants in Syria, Mr. Obama pledged a new dose of support for moderate Syrian fighters also battling the extremist group. Taken together, the steps draw the U.S. closer toward the volatile Syrian civil war and open a new front for American efforts in the region.
Saudi Arabia has offered to host a U.S.-run training facility for moderate Syrian rebels, U.S. and Arab officials said. The facility is expected to be able to handle as many as 10,000 fighters, but details are still being worked out, the officials said.
After the speech, the top two House Republicans, Speaker John Boehner of Ohio and Majority Leader Kevin McCarthy of California, said they backed Mr. Obama's proposal to arm pro-Western rebels, while also criticizing his strategy as insufficient to confront terrorism and potentially slow to implement.Rep. Michael McCaul (R., Texas), said the speech marked a turning point for Mr. Obama. "The past few years, the president and his administration have not wanted to face the reality of the growing threat in Syria," said Mr. McCaul, chairman of the House Homeland Security Committee. "Tonight the president seemed to have faced reality."
Sen. Dianne Feinstein (D., Calif.), who has been critical of Mr. Obama's handling of the Islamic State applauded him for "recognizing the seriousness of the threat and for going on the offense against this threat."
Senior administration officials said the president is reviewing options from the Pentagon for military strikes in Syria and insisted they would be conducted in a targeted way that wouldn't embolden President Bashar al-Assad.
Defense officials said the bulk of strikes are likely, at least in the coming days, to take place in Iraq, where the U.S. has far better intelligence on Islamic State militant actions than in Syria. But the White House suggested Wednesday it would be expanding surveillance flights and increasing the quantity and quality of intelligence it is collecting in Syria.
Also by promising to "degrade ISIL's leadership," the White House has opened the door to targeted strikes on the group's senior leaders. While most of the group's leaders are in Syria, officials said there were also leaders in Iraq that would be targeted by American drones.
The administration's strategy carries significant risk. It relies heavily on the cohesion of a fledgling Iraqi government that formed this week and a tenuous coalition of Arab states and European allies that still isn't fully formed.
Mr. Obama is asking a divided Congress to vote this month to authorize the U.S. military to train pro-Western rebels in Syria who, like Islamic State, are battling the Assad regime. As part of that request, Mr. Obama wants lawmakers to approve a $500 million counterterrorism fund that would help arm and train the rebels.
The plan wouldn't draw on U.S. combat troops "fighting on foreign soil," Mr. Obama said. "This counterterrorism campaign will be waged through a steady, relentless effort to take out ISIL wherever they exist, using our air power and our support for partner forces on the ground."
House and Senate aides worked on Wednesday to determine whether and how the chambers would vote on the training-authorization request in the short, two-week legislative window before they leave to campaign for the November elections.
Don't miss the stories
followIndiaVision News & Information
and let's be smart!