Obama Urges Global Effort to stop Ebola as Virus Spreads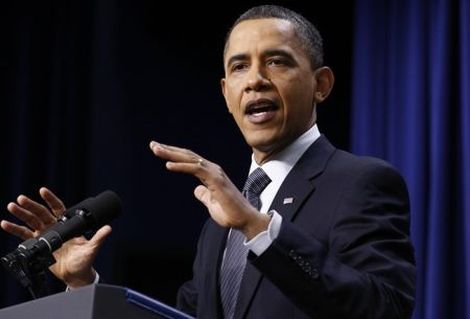 President Obama Asks Congress to Hold Off on New Iran Sanctions
President Barack Obama urged aid groups and other nations to dramatically escalate their response to the Ebola outbreak in western Africa, warning that the epidemic is spiraling out of control.
"If the outbreak is not stopped now, we could be looking at hundreds of thousands of people infected, with profound political and economic and security implications for all of us," Obama said yesterday after getting briefed by officials at the Centers for Disease Control and Prevention in Atlanta.
The U.S. is deploying about 3,000 U.S. military personnel to the region to assist with shipping and distributing medical equipment, sanitation kits and body bags, among other supplies. American personnel also will help build as many as 20 100-bed treatment centers and train about 500 health-care providers in the region.The Pentagon is asking Congress to shift another $500 million in its budget for Ebola response, doubling the amount it's seeking to spend from its contingency fund to as much as $1 billion, the White House said yesterday.
The United Nations Security Council is set to hold an emergency meeting on Ebola tomorrow led by U.S. Ambassador Samantha Power as the virus has begun to spread beyond Liberia, Sierra Leone and Guinea into Nigeria and Senegal. The epidemic has infected almost 5,000 people and killed about half of them, and the World Health Organization has warned that infections may not have peaked.Obama said that while the U.S. is ready to mobilize the global effort to stem the outbreak, other nations and aid organizations must act with more urgency.International organizations just have to move faster than they have up until this point," Obama said. "More nations need to contribute experienced personnel, supplies, and funding that's needed, and they need to deliver on what they pledge quickly."
The U.S. military, practiced in moving large volumes of supplies and personnel, is leading the American response.
Major General Darryl Williams, commander of the U.S. Army in Africa, arrived in the Liberian capital of Monrovia yesterday, where the Pentagon's Africa Command is setting up a headquarters for the Ebola response. Obama said the U.S. will create an "air bridge" to get health-care workers and medical supplies into western Africa.Many of the troops will be sent to a staging base in Senegal, where there's no current outbreak. The military's main tasks will be logistics, training and engineering support. The troops won't be involved in caring for Ebola patients, though some may be sent into Liberia.Other U.S. personnel will be in more direct contact. The U.S. Public Health Service Commissioned Corps is set to send 65 of its officers to Liberia to manage and staff a Defense Department hospital to treat health-care workers who become ill. Obama said precautions are being taken to make sure the infection isn't brought back to the U.S.
"In all of our actions, the safety of our personnel will remain top priority," Obama said.The money sought by the Pentagon would go to humanitarian supplies for the Ebola-stricken region and for training to care for victims as well as transportation of military and civilian personnel.
That comes on top of an earlier White House request for $88 million as part of a measure to fund the federal government for the rest of the year. The administration says it has already committed $175 million.
Obama said the chances of an outbreak in the U.S. remains "extremely low." Airline flight crews are getting instructions on how to identify people who are sick and doctors, labs and hospitals are prepared to deal with any cases that may show up, he said.
Don't miss the stories
followIndiaVision News & Information
and let's be smart!