Obama Weighing Delay in Action on Immigration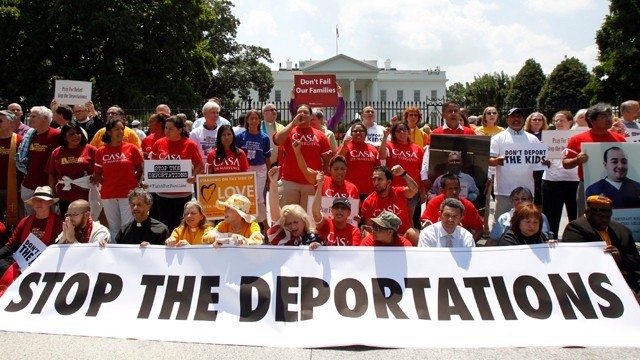 WASHINGTON — President Obama is considering a delay of his most controversial proposals to revamp immigration laws through executive action until after the midterm elections in November, mindful of the electoral peril for Democratic Senate candidates, according to allies of the administration who have knowledge of White House deliberations.
The president vowed in late June to act unilaterally, declaring a deep frustration with what he termed Republican obstruction in Congress. He pledged to act to reshape the immigration system soon after he received recommendations from senior advisers at the end of the summer.
But now Mr. Obama and his aides appear to be stepping back from a firm commitment to that timing, a move that could draw fire from immigration advocacy groups who are expecting decisive action soon. In remarks to reporters on Thursday, Mr. Obama himself hinted at the possibility of a delay.
Immigrants waited for transportation to a United States Border Patrol processing center after crossing the Rio Grande from Mexico into Texas.Woman Is First to Be Ruled Eligible for Asylum in U.S. on Basis of Domestic AbuseAUG. 29, 2014
Maria del Rosario Duarte, 54, cares for grandchildren who are here legally. "I am scared to take them back to Mexico," she said.Advocates Seek to Delay Deportations for MillionsAUG. 19, 2014
President Obama made a statement before signing an Executive Order to protect LGBT employees from workplace discrimination in July.Behind Closed Doors, Obama Crafts Executive ActionsAUG. 18, 2014
Representatives Michele Bachmann of Minnesota and Steve King of Iowa, center left, were among a group of conservative Republicans who reshaped two immigration-related bills.On Immigration, G.O.P. Starts to Embrace Tea PartyAUG. 12, 2014
Undocumented immigrants being taken into custody last month near Falfurrias, Tex. Polls show that Americans are becoming more concerned about border security.Midterm Calculus: The Political Risks of an Obama Executive Action on ImmigrationAUG. 8, 2014
President Obama spoke in the Rose Garden of the White House on Monday.Obama Says He'll Order Action to Aid ImmigrantsJUNE 30, 2014
"Some of these things do affect timelines, and we're just going to be working through as systematically as possible in order to get this done," Mr. Obama said. "But have no doubt, in the absence of congressional action, I'm going to do what I can to make sure the system works better."
His aides were sending similarly strong signals, but emphasized that no final decision had been made. Josh Earnest, the White House press secretary, said Friday that Mr. Obama was "as determined as ever to take that kind of action on his own." But he and other White House officials declined to repeat the president's earlier pledge of an announcement by the end of this summer, or to say whether Mr. Obama was considering delaying some of his decisions until later this year.
"That's putting the cart before the horse," Mr. Earnest said. "Those who are speculating about how those recommendations might be implemented are a little ahead of themselves."
For Mr. Obama, talk of a delay is politically explosive among Hispanics, who are one of his most loyal constituencies and twice helped him win the presidency. Long upset by Mr. Obama's inability to successfully push comprehensive immigration overhaul in Congress, immigration rights advocates said Friday that a delay would be unconscionable.
"This is a moment of leadership for the administration, for the president," said Lorella Praeli, the advocacy director for United We Dream, the largest network of young immigrants in the United States illegally. "Is he going to succumb to the threats from the Republican Party, or is he going to lead?"
Chris Newman, the legal director for the National Day Laborer Organizing Network, said his group wants Mr. Obama to act boldly, and soon.
"Our hope is that the president's conscience will prevail," Mr. Newman said.
Representative Luis V. Gutiérrez, Democrat of Illinois, who has at times been critical of the administration's approach, said that delay "comes at a tremendous cost in terms of families split up and children placed in foster care." He said he remained confident that the president would put families and security "ahead of short-term political maneuvers."
Continue reading the main story
Inside the White House, the timing of an announcement has become the subject of a fierce debate even as immigration lawyers at the Homeland Security Department rush to develop legally defensible policy options for the president.
Some of Mr. Obama's advisers are urging him to postpone action, fearful of the political ramifications of a broad action to protect millions of immigrants in the country illegally from deportation and to provide many of them with official work papers. Such a move by the president, some senior officials worry, could set off a pitched fight with Republicans and dash hopes for Democratic Senate candidates running in Arkansas, Louisiana, North Carolina and potentially in Iowa.
Control of the Senate hinges on the outcomes of the half-dozen close races in states where Mr. Obama is not popular, notably in Southern states where opposition to an immigration overhaul runs high, and strategists fear that an immigration announcement could hurt Democratic candidates.
Don't miss the stories
followIndiaVision News & Information
and let's be smart!