Pakistan hangs nine as death row convict's mother begs for mercy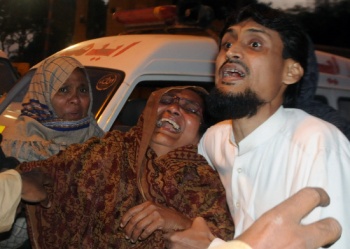 ISLAMABAD: Pakistan hanged nine death row convicts on Wednesday, media said, as the mother of a man charged as a child with murder and due to be hanged this week begged the president for mercy.
Wednesday's hangings bring the number of executions in the past two days to 21, and to 48 since an unofficial moratorium on capital punishment was lifted in December. Twelve were executed on Tuesday.
However, the Interior Ministry said it did not know how many people had been executed in total.
"The ministry does not have consolidated data after the lifting of the moratorium as new cases include all types, including terrorism," a spokesman said in a text message.
The death sentence cannot be used against a defendant under the age of 18 when the crime was committed. Testimony obtained by torture is also inadmissible.
Yet lawyers for Shafqat Hussain say he was just 14 in 2004 when he was tortured into confessing to the killing of a child. He is due to be hanged on Thursday.
Prime Minister Nawaz Sharif lifted the moratorium on Dec 17, a day after Pakistani Taliban gunmen attacked a school and killed 134 students and 19 adults. The killings put pressure on the government to do more to tackle the Islamist insurgency.
At first, the government said only militants would be executed. But last week it emerged that officials had quietly widened the policy for all prisoners on death row whose appeals had been rejected.
Shafqat Hussain's mother appealed to President Mamnoon Hussain to commute the death sentence to life in prison.
"I beg for new life for my son," the Express Tribune quoted Makhani Begum, 65, as saying.
Interior Minister Chaudhry Nisar Ali Khan had promised an investigation into Shafqat Hussain's age, but his lawyers say neither they nor the family were contacted.
"It's just a sham. There was no inquiry conducted at all," said Shahab Siddiqui from Justice Project Pakistan, the legal aid group representing Hussain.
Human rights groups say convictions in Pakistan are highly unreliable because its antiquated criminal justice system barely functions, torture is common and police are mostly untrained.
Don't miss the stories
followIndiaVision India News & Information
and let's be smart!