Palestinian death toll hits to 300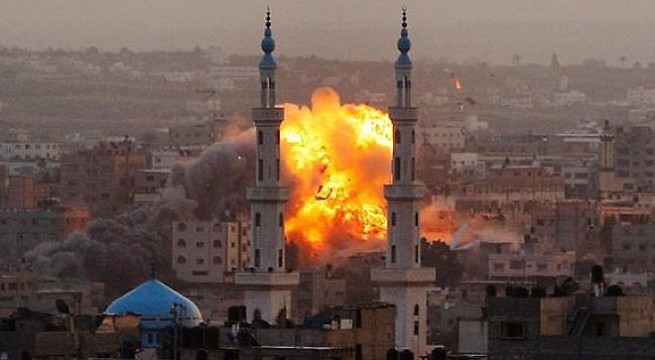 The UN Security Council commenced an emergency session on Friday afternoon to discuss the ongoing situation in Gaza.
Jeffrey Feltman, under-secretary-general for political affairs, spoke first, denouncing the violence and calling for a two-state solution.He said UN Secretary General Ban Ki-moon will travel to Israel tomorrow to address the crisis.
Riyad Mansour, Palestine's Ambassador to the UN, spoke next. He began with an emotional reading of the names and ages of civilians killed in Gaza.Mansour lamented the civilian casualties, saying Israel "increased its operations with full knowledge that civilians will suffer."
He then called on the Security Council to adopt a resolution "that condemns the Israeli military aggression against the Palestinian civilian population in the Gaza Strip, calls for its immediate cessation, calls for the lifting of the Israeli blockade on Gaza Strip, and calls for protection of the Palestinian people since Israel, the occupying power, has clearly forfeited its legal obligations to do so."
He ended his statement with a plea for global organizations "to provide emergency humanitarian assistance to the Palestinian civilian population in Gaza in order to alleviate their grave suffering and devastation they are enduring."
Ron Prosor, Israel's ambassador to the UN, spoke next, defending his country's decision to attack Gaza.
"For 10 days, the life of 5 million Israelis has meant having just seconds to run to a bomb shelter to save their lives," he said, according to the Guardian live blog. "Our largest cities are being bombarded on a daily basis. There is no country in the world that would tolerate such an assault on its cities."
Prosor objected to Israel being called an occupying force. "Occupation? Does nobody remember anything? In 2005, after Israel withdrew from Gaza, there was not a solider, not a settler and not a single Israeli left. We left infrastructure behind to allow Gaza to succeed. We wanted it to serve as a model for two societies to live side by side in peace. But it didn't."Israeli officials say the offensive is aimed at destroying Hamas tunnels dug into Israel and that it could last up to two weeks.
Israel's military chief Lt. Gen. Benny Gantz visited troops on the Gaza border early Saturday and said "a strategic national patience is necessary" to complete the operation.
Don't miss the stories
followIndiaVision News & Information
and let's be smart!